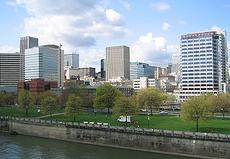 Oregon Small Business Association,
Portland lost 23,000 jobs according to the U.S. Census Bureau.   suffering a 2.82% decline.  The greatest declines came from Las Vegas, Wichita, Sacramento and Cape Coral (FL) with over a 4% decline in workers.  The single biggest raw number declines came from Chicago (-101,500), Los Angeles (-85,200), New York (-73,400) and Detroit (-57,000).
Portland rated high in recession rebound
Not all news is bad.   Forbes put Portland in the top 20 cities to ride out the recession. Here is what they said about Portland;
"This city is considered among the most sustainable in the U.S. A growing percentage of Oregon's jobs are in green industries. However, Portland continues to struggle with high unemployment. But with the continued interest in green energy, especially as the economy improves, the city might find itself in a better position soon."
For more on this ranking got o Yahoo Finance here.