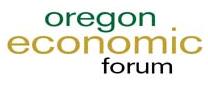 By Tim Duy,
Oregon Economic Forum
University of Oregon Portland Metro Business Index .
sponsor, KeyBank.
The University of Oregon Index of Economic Indicators™ rose 0.2% percent in April to 89.2 (1997=100) from a revised March figure of 89.1.  Although all indicators improved compared to six months ago, the pace of improvement is slowing.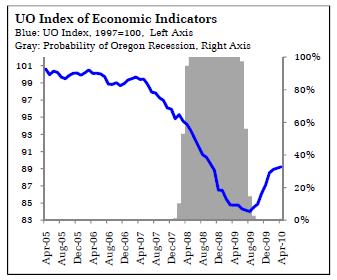 Highlights of the report include:
•    Initial unemployment claims rose to their highest level since January. Although the level of claims has dropped dramatically since the height of the recession, they remain at a level consistent with persistent job weakness.
•    Overall nonfarm payrolls (not included in the index) rose by 3,900 jobs, the largest gain since October 2007. Gains in government hiring, however, drove much of the increase.  Some of those gains – such Census hires – are temporary, while state and local jobs are vulnerable to additional budget cuts.
•    Residential building permits (smoothed) fell for the second consecutive month, suggesting the housing market is already losing some of its new-found momentum.  In recent months, housing data has been driven by the start-stop effect of tax credits.  A clearer picture of the sector should emerge in the months ahead.
•    New orders for nondefense nonaircraft capital goods fell, but the previous month's data was revised upward from an already sharp gain.  The upward trend of this indicator remains intact, and signals improving business confidence and factory activity.
•   Although the pace of improvement in the UO Index has slowed in the past two months, the recovery continues to look intact. That said, improvement was driven in part by fiscal stimulus and inventory correction, and, despite these additional factors, labor market improvements have been lackluster at best.  The pace of growth simply remains insufficient to drive rapid employment gains.
### Event Announcement ###
Oregon in the Aftermath – Back on track?
7th Annual Oregon Economic Forum
October 21, 2010
The impact of the financial crisis has waned, with glimmers of light at the end of the long, dark tunnel of recession.  But optimism is mixed with a healthy dose of pessimism.  How fragile is the recovery?  How long will it take to recover the jobs lost to the recession?  Will Oregon come roaring back from the recession, or will we be left behind?  Is Portland's economy really on par with comparable cities?  University of Oregon economists will answer these questions and more at this year's Oregon Economic Forum.  And be sure to bring your own questions!  This year we are adding extended time for audience participation, giving you a chance to ask the question most relevant to your business.  Also included is a special keynote address by John Fernald, Vice President of Macroeconomic Research at the San Francisco Federal Reserve Bank.  We look forward to seeing you at this special event.
Scheduled Speakers
Tim Duy, Director, Oregon Economic Forum, University of Oregon
George W. Evans, John B. Hamacher Professor of Economics, University of Oregon
Mark A. Thoma, Associate Professor of Economics and author of the popular weblog Economist's View, University of Oregon
Jeremy Piger, Associate Professor of Economics, University of Oregon
John Fernald, Vice President of Macroeconomic Research, Federal Reserve Bank of San Francisco
Presenting Sponsor:  KeyBank
Governor Hotel
614 Southwest 11th Avenue
Portland, OR 97205
(503) 224-3400
7:30am to 11:00am
Breakfast included
Timothy Duy
Director, Oregon Economic Forum
Director, Undergraduate Advising
Department of Economics
University of Oregon – 1285
Eugene, OR 97403-1285