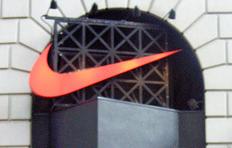 Company Targets Revenues of $27 Billion and More than $12 Billion of Cumulative Cash Flow from Operations by 2015
Today NIKE, Inc. (NYSE:NKE) unveiled its strategy and key initiatives to achieve sustainable, long-term growth across its global portfolio of brands and businesses. During its investor meeting in New York, the Company announced a revenue target of $27 billion by the end of fiscal 2015 based on growth expectations across its portfolio, which includes the NIKE Brand, Cole Haan, Converse, Hurley, Jordan Brand, NIKE Golf and Umbro. Additionally, the Company believes it can generate over $12 billion of cumulative free cash flow from operations through 2015. Both goals extend NIKE, Inc.'s long-term financial model of high single-digit revenue growth, mid-teens earnings per share growth, and expanding returns on capital.*

"Hurley continues to outperform everyone in its market; Cole Haan has tremendous opportunity for growth; and Converse, nearly a $1 billion business, has developed strategies to double its revenue by 2015."
"We've never been more inspired, innovative and aligned to achieve our goals," said NIKE, Inc. President and CEO Mark Parker. "We have powerful competitive advantages in our portfolio – innovative and compelling products, brands that are distinct and relevant to their consumers, and the world's greatest athletes and teams. Our focus is to build, fuel and accelerate the power of our portfolio."*
The NIKE Brand is the most powerful asset in the NIKE, Inc. portfolio, accounting for approximately 85 percent of total revenue. NIKE, Inc.'s Other Brands continue to increase their contribution to the Company's overall growth strategy. "With our acquisition of Umbro, NIKE has extended its position as the biggest football Company in the world," Parker said. "Hurley continues to outperform everyone in its market; Cole Haan has tremendous opportunity for growth; and Converse, nearly a $1 billion business, has developed strategies to double its revenue by 2015."*
NIKE Brand Overview
NIKE Brand President Charlie Denson provided an overview of how NIKE's consumer-focused category strategy is driving growth through increased market place capacity and penetration, "NIKE is the most connected, authentic and distinctive brand in the industry." Denson continued, "Our consumer focused strategy enhances our ability to deliver great product and elevated consumer experiences which will help grow the NIKE Brand to approximately $23 billion by the end of fiscal 2015."*
NIKE Brand – Category Offense
* Action Sports – comprised of NIKE 6.0 and NIKE SB, is the fastest growing category within the Nike Brand. The Company anticipates doubling its current estimated $390 million business by 2015.**
* Athletic Training – started more than 20 years ago with the advent of NIKE cross training. This business, estimated at $1.4 billion, continues to redefine performance with key innovations like NIKE Pro base layer apparel and the Trainer1 shoe.**
* Basketball – led by the strength of the Jordan Brand and excellent opportunities in the United States and China, NIKE's basketball business is currently at approximately $1.7 billion in revenue.**
* Football – with NIKE Brand Football revenue of approximately $1.7 billion, the Company is launching its largest-ever presence at a World Cup including new footwear, national team kits, and NIKE Football+.**
* Running – with approximately $2.1 billion in revenue, NIKE's original category continues to be the source for key innovations including Flywire, Lunar Cushioning, and Nike+ enabled footwear. Nikeplus.com is the world's largest running club with close to 3 million registered members and Lunar Glide continues to expand the category's growth opportunities.**
* Sportswear – the Company's largest category at about $4.9 billion continues leveraging new performance ideas from the six sports categories as well as franchise products like the Air Force 1 (which sells 15 million pairs a year 25 years after its debut).**
* Women's Training – with nearly $740 million in sales and the number one position in women's training footwear in the U.S. and the top five European markets, a new generation of NIKE Free footwear – designed to strengthen the body and improve fitness by activating the core – in concert with the Company's strongest ever apparel offering continues to drive growth in this category.**
NIKE Brand – Geographic Opportunities
The Company announced plans to grow the NIKE Brand in all six of its geographies including driving mid single-digit growth through broader expansion in its developed geographies (North America, Western Europe, and Japan), targeting an additional $3.0-3.5 billion of annual revenue by the end of fiscal 2015. Additionally, NIKE plans to invest aggressively in its developing market geographies (Greater China, Central & Eastern Europe, and Emerging Markets) targeting low double-digit growth and an additional $3.0-3.5 billion of annual revenue by the end of fiscal 2015.
NIKE, Inc. – Direct to Consumer
In discussing its Direct to Consumer business, the Company outlined plans to open approximately 250-300 new NIKE-branded stores worldwide over the next five years to elevate the consumer experience and position the brand in the world's premium shopping locations, as well as drive accelerated growth in digital commerce, leveraging the explosive growth of NIKEiD. Given these efforts, NIKE, Inc. expects mid-teens growth in its Direct to Consumer Business which should contribute an additional $2.2-2.6 billion by 2015.
Also highlighted was an increased focus on working with retail partners to create more elevated and differentiated consumer experiences including execution of category-segmented concepts within key markets. NIKE's wholesale business model is expected to continue to be the primary driver of long-term growth, with retail partners still expected to account for more than 80 percent of the Company's overall business by 2015.
To build and strengthen its global retail presence, NIKE, Inc. announced plans to invest $500-600 million in capital over the next five years to develop the Direct to Consumer business and build capabilities to support both owned and wholesale retail productivity and performance.
NIKE, Inc. – Other Businesses
In discussion of its Other Businesses, which includes Cole Haan, Converse Inc., Hurley International LLC, NIKE Golf, and Umbro Ltd., the Company announced a low double-digit growth target which should contribute an additional $1.5-2.0 billion of revenue by the end of fiscal 2015.
NIKE, Inc. – Long-term Financial Objectives
Chief Financial Officer Don Blair gave an overview of the Company's performance against its long-term financial model, highlighting delivery of strong performance through good and bad market environments. "Our long-term financial model helps us stay focused on driving sustainable, profitable growth, powerful cash generation, and preserving a very strong balance sheet, all of which gives us tremendous flexibility to invest in our business and generate extraordinary shareholder value." Primary financial objectives through 2015 included the following:
* High single-digit revenue growth (average annual rate)
* Mid-teens Earnings Per Share growth (average annual rate)
* Return on Invested Capital of 25%
* Increasing dividends within a target calendar year payout range of 25-35% of trailing four quarter earnings per share
Meeting Presenters and Content
Additional presenters from NIKE, Inc's senior management included: Gary DeStefano, President of Global Operations; Trevor Edwards, Vice President of Brand and Category Management; Willem Haitink, Vice President and General Manager of NIKE China; Jeanne Jackson, President of Direct to Consumer; Eunan McLaughlin, President of NIKE Affiliates; Jan Singer, Vice President of Global Footwear; Michael Spillane, CEO of Converse; and Eric Sprunk, Vice President of Merchandising and Product.
NIKE, Inc. invites investors and the media to view the replay of Web cast and slides from the event at www.nikebiz.com/investors. An archived audio replay in downloadable MP3 format will also be available within 24 hours after the event on the Company's Web site and will be accessible through midnight, August 5, 2010.