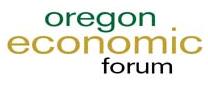 By Tim Duy,
Oregon Economic Forum
University of Oregon Portland Metro Business Index .
sponsor, KeyBank.
The University of Oregon Portland Metro Business Index (PMBI) rose 1.2% percent to 88.9 (2002=100) in the first quarter of 2010.  Compared to year ago levels, the PMBI is down just 2.5 percent, a significant improvement from the low of -16.9% in the second quarter of 2009.
Highlights include:
•    Labor market data was generally improved in the region. Initial unemployment claims continued to decline, signaling a slower pace of layoffs, which is consistent with improving economic conditions.  Job growth reemerged in the first quarter with the first increase in nonfarm payrolls in two years.  Due to a data collection error, local level initial unemployment claims data is not available for January 2010.  The data was estimated via an average of the year-over-year changes of initial claims for December 2009 and February 2010.

•    Measures of tourism related activity were stronger. Estimated lodging revenues, adjusted for inflation, rose for the first time since the final quarter of 2008.  Likewise, airport passenger traffic rose, partially offsetting the previous quarter's decline.

•    Housing markets were generally somewhat softer. Home sales dipped in the wake of significant gains in the second half of last year.  Note that on-again/off-again housing tax credits are inducing some additional volatility in the housing market.
•    Residential building permits declined modestly after a large gain the previous quarter.

•    The increasing PMBI over the past two quarters is a welcome signal that the recession drew to a close at the end of 2009. Overall US job growth in March and April of 2010 indicate the national recovery is sustainable, although the pace of growth still falls short of that necessary to rapidly reduce unemployment rates.
Timothy Duy
Director, Oregon Economic Forum
Director, Undergraduate Advising
Department of Economics
University of Oregon – 1285
Eugene, OR 97403-1285