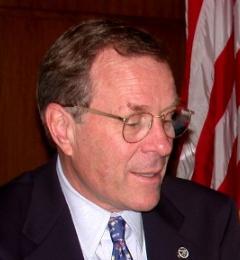 Governor Kulongoski reports that Federal Recovery Act continues to produce results in Oregon. $150 million in Recovery Act dollars funded approximately 5800 jobs in third quarter
By Governor Ted Kulongoski,
Salem – Governor Kulongoski announced today through Oregon's third quarterly report on the American Recovery and Reinvestment Act (Recovery Act) that approximately 5800 jobs were funded through $150 million in federal investments during the last three months.  In addition to the jobs funded, the $150 million also funded investments in equipment and materials.
"This report demonstrates that the Recovery Act continues to help support jobs across the state for thousands of Oregonians during this difficult economic period," Governor Ted Kulongoski. "From job creation and retention to direct assistance for families struggling to make ends meet, the Recovery Act continues to help Oregon as we begin to emerge from this latest recession."
Total investment this quarter in all Recovery Act projects and related programs managed by state agencies, such as education, health care and unemployment assistance, is approximately $613 million.
Cumulatively, of the $3.9 billion that the state is expected to receive during the three-year program, approximately $2.3 billion has been expended so far – all of which is accounted for on the state's website. A one-stop portal of local community project information, the website lists detailed information about Recovery Act investments in human services, public safety and education, as well as energy, transportation, housing and other job-creating infrastructure projects in Oregon.
During the last three months, $3.2 million in funding from the Recovery Act has helped to provide weatherization to 688 low-income homes.  This will provide benefits to vulnerable Oregonians well into the future.
The State Energy Program has awarded $16.2 million worth of new investments in 130 energy efficiency and renewable energy projects around the state that will produce both short-term job creation and long-term energy cost savings.
"A key goal of the Recovery Act was to invest strategically in the kinds of infrastructure projects that both will create new jobs quickly and will more than pay for themselves in energy savings over the longer term," said Governor Kulongoski.  "Our latest report on the Recovery Act shows that we're making significant progress on meeting that goal in Oregon."
The largest portion of stimulus funding Oregon will receive is for direct assistance to Oregonians.  Since February 2009, approximately $1.7 billion in Recovery Act funding is now in the hands of individual Oregonians, helping families meet their basic needs during these trying times.  As part of this effort, extended unemployment payments are assisting thousands of Oregonians who are seeking jobs, Medicaid benefits have made it possible to provide healthcare to thousands of Oregonians, and food stamp assistance has helped the state continue to aid hundreds of thousands of Oregon households each month.
In addition, during the last three months, Recovery Act funds have paid the salaries of over 4,000 educators in Oregon's K-12 school system and the state's seven public universities, and staffed 736 workers at state correctional facilities in order to keep our prisons operating.
By the end of the month, the federal recovery website will have comprehensive data from states, local entities and private recipients to provide a one-stop portal of information for media and the public.
The next quarterly report to the federal government from states on Recovery Act spending is scheduled for July 2010.
For more information on the highlights of Oregon's latest Recovery Act report, click here.
To view the Oregon recovery website, go to:  www.oregon.gov/recovery.
For the federal recovery website, go to:  www.recovery.gov.