Workplace deaths continued to decline over past decade 2009 figure ties record for lowest in Oregon history
By Oregon Department of Consumer and Business Services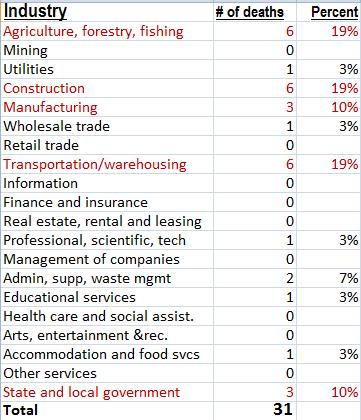 (Chart by Oregon Business Report)
(Salem) – Thirty-one people covered by the Oregon's workers' compensation system died on the job during 2009, the Department of Consumer and Business Services (DCBS) announced.
That total brings the average number of workers who died on the job during the past decade to just below 40 – a significant decrease from the average of 55 workplace deaths per year in Oregon in the 1990s and 81 per year in the 1980s. On-the-job injuries also have been declining in recent decades: the statewide rate of reported workplace injuries and illnesses has decreased more than 50 percent since the late 1980s.
"Oregon workplaces are much safer today, and that's due to a significant effort by both employers and workers to prevent injuries and deaths," said Cory Streisinger, DCBS director. "This year, as we commemorate the 20th anniversary of Oregon's historic workers' compensation reforms, we must recommit to a focus on prevention, to help ensure Oregon workers come home safely to their families each day."
The 2009 fatalities total matches 2005, when there were also 31 deaths. Those figures are the lowest numbers reported since the state started tracking workplace deaths in 1943. In 2008, 45 people died on the job (eight workers were killed in a firefighting helicopter crash) and in 2007, the fatality total was 35. Part of the most recent reduction is likely to be the result of the downturn in the economy, but the statistics for the decade show a continuing and positive trend. Construction, trucking and transportation and agricultural industries saw the largest concentration of deaths, with six in each category. Overall, 12 of the deaths were the result of motor vehicle crashes. The numbers show an improvement in construction, where there were 12 deaths in 2007.
"It's always good to see the number of fatalities go down, but we must never forget that these numbers represent real people," said Michael Wood, administrator of Oregon OSHA, a division of DCBS. "Whether 10, or 30, or two workers die on the job, the loss experienced by each fallen worker's family and friends is just as real."
Oregon OSHA offers educational workshops, consultation services, training videos, and Web site information to help Oregon employers create or improve their safety and health programs.
DCBS compiles fatality statistics from records of death claim benefits paid by Oregon workers' compensation insurers during the calendar year. The data reported may exclude workplace fatalities involving self-employed individuals, city of Portland police and fire employees, federal employees, and incidents occurring in Oregon to individuals with out-of-state employers. These workers are either not subject to Oregon workers' compensation coverage requirements or are covered by other compensation systems.
Deaths that occur during a prior calendar year may appear in the compensable fatality count for a later year because of the time required to process a claim.
Complete data on all deaths caused by injuries in Oregon workplaces, regardless of whether they are covered by workers' compensation insurance, are computed separately and reported in the annual Census of Fatal Occupational Injuries (CFOI) administered by the U.S. Bureau of Labor Statistics. The 2009 CFOI report is not expected for release until the fall of 2010.
The link to the full DCBS fatality report can be found here:
Click to access annual_rpt_09.pdf