By Nick Beleiciks
Oregon Employment Department
Oregon's defense industry has historically been a small part of the state's economy, but that's starting to change. After years of hardly any growth for the industry, Department of Defense spending in Oregon nearly doubled between 2006 and 2007, and by 2008 spending topped $1.4 billion. That was triple the value of orders Oregon's defense industry received just five years earlier.
Industry on the Move
Driving Oregon's growing defense industry are the state's "smart and flexible manufacturers who are willing to try new things," according to Brice Barrett, executive director of the Pacific Northwest Defense Coalition (PNDC).
According to Barrett, Oregon businesses were able to capitalize on their traditional strengths to attract more defense work. Examples include Allied Systems Company, which started out building equipment for the wood products industry and expanded their products into specialized marine cranes with military applications.
Other companies combined the state's traditional need for outdoor work gear with the military's need for sturdy equipment. Examples include Benchmade, which makes edge tools for civilians and the military, or Danner, which makes civilian and military boots. The Department of Defense gives preference to domestically sourced goods, giving manufacturers with overseas production facilities an incentive to keep a portion of their manufacturing in the U.S.
The technology transfer works in the other direction as well. Federal investment through defense contracts allows businesses to develop technologies for the military which may have future civilian uses. Barrett points to the region's cluster of firms manufacturing and using Unmanned Arial Vehicles (UAVs or "drones"). Currently used primarily by the military, UAVs hold potential for nonmilitary use, such as finding victims of natural disasters.
Measuring the Defense Industry
The defense industry consists of contractors across a wide spectrum of industries. This makes it challenging to figure out just how big Oregon's defense industry is. There are no reliable estimates of just how many defense industry workers there are in Oregon, or how much income these workers are earning.
The best information available is from the U.S. Census Bureau's Consolidated Federal Funds Report, which includes the total value of obligated contracts awarded by the Department of Defense (DoD). The contracts are reported by place of performance rather than the location of the prime contractor, so large national and international firms that received DoD contracts but do the work in Oregon or subcontract to Oregon businesses are counted in Oregon.
This accounting of sales for Oregon's defense industry is not a complete picture. It misses sales to foreign countries. It also misses contracts that are classified with respect to the location of performance. Then there are what Barrett calls the second or third tiers of Oregon's defense industry – the businesses who supply other defense contractors creating an economic benefit that's not easy to quantify.
Oregon's Defense Contracts are "Army Strong"
Oregon defense contractors serve the needs of all branches of the military, but the Army stands out as the industry's largest customer. With $1.16 billion in contracts awarded in fiscal year 2008, the Army accounted for 81 percent of DoD procurements in Oregon (Graph 2).
The Navy awarded $163 million in contracts to firms in Oregon, and the Air Force awarded $19 million. These comparatively small amounts are not surprising considering Oregon does not host a Naval or Air Force base.
Other defense agencies, such as the National Security Agency and the National Geospatial-Intelligence Agency, awarded Oregon contractors $89 million in procurement contracts. Among the other agencies, the Defense Logistics Agency is in charge of supplying the military forces with consumable goods ranging from groceries to construction materials.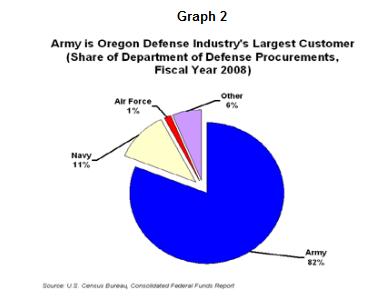 Contracts Won by County
Department of Defense contractors in nearly every Oregon county received procurement contracts in 2008. Contractors in Multnomah County were busy with the $677 million worth of DoD procurement contracts awarded to them, which was nearly half of the state's total value of DoD contracts. Contractors in Clackamas County were awarded $308 million in contracts, the second-most for any county in the state. Nearly $190 million was awarded to contractors in Umatilla County, where a lot of work is related to the Umatilla Army Depot closure.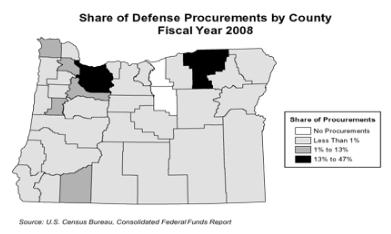 A Bright Future
The future of Oregon's defense industry looks good according to Barrett. There have been some "big deals" for defense manufacturers, including Freightliner, whose recent large truck order from the Army extended operations at the Swan Island plant.
Defense orders helped many Oregon companies weather the current downturn in the economy. "The military business helps smooth their retail market," says Barrett, keeping some of them healthy and in a position to rebound with the recovery.
The health of the defense industry ultimately depends on the level of federal funding available, but if the recent past is any indication, Oregon contractors will continue to attract more of the Pentagon's procurement budget than ever before.