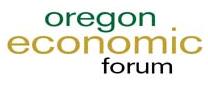 By Tim Duy,
Oregon Economic Forum
University of Oregon Index of Economic Indicators.
sponsor, KeyBank.
The University of Oregon Index of Economic Indicators™ jumped 1.7 percent in January to 88.5 (1997=100) from a revised December figure of 87.0.  This is the third consecutive month of gains in excess of 1 percent.  Data reflects an annual revision of state employment data, which enters the UO Index via employment services payrolls.  While the UO Index is consistent with solid economic growth, that growth has yet to translate into significant overall job gains.

1. Labor market shows improvement.
2. Overall labor market gains remain meager.
3. Residential building permits rise
4. Oregon trucking activity climbed
5. Economy is bouncing off the recession lows of last summer
Highlights of the report include:

Labor market indicators are showing improvement. The pace of layoffs is clearly moderating; initial unemployment claims declined again, finally slipping below the highs reached in the 2001 recession.  Employment services payrolls – largely temporary employment firms – rose to their highest levels since February 2009.
Still, the overall labor market improvements remain meager. The initially reported December nonfarm payrolls gain was revised to a loss, while January 2010 saw a rise of just 1,100 jobs.

Residential building permits (smoothed) rose again, bringing activity to the level of April 2009. Note that the pace of improvement slowed in January.  Also, the gains may be temporary; early data suggests that home sales slowed as we entered 2010.
The Oregon weight-distance tax (smoothed) – a measure of trucking activity – climbed as a firming economy and ongoing inventory correction necessitated more shipping activity. New orders for nondefense nonaircraft capital goods slipped, but this can be a volatile series; the overall upward trend in recent months remains consistent with improving economic conditions.
Like the US economy, the Oregon economy is bouncing off the recession lows of last summer. The labor market response to improving conditions, however, has been tepid at best.  While overall job losses have largely ended, concerns about the sustainability of growth appears to be leaving firms cautious about hiring; rising activity at temporary employment firms is a hopeful sign this caution is easing.
Timothy Duy
Director, Oregon Economic Forum
Director, Undergraduate Advising
Department of Economics
University of Oregon – 1285
Eugene, OR 97403-1285
541.346.4660