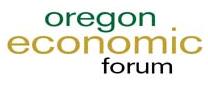 By Tim Duy,
Oregon Economic Forum
University of Oregon Index of Economic Indicators.
sponsor, KeyBank.
The University of Oregon Index of Economic Indicators™ rose 1.2 percent in December to 86.8 (1997=100) from a revised November figure of 85.8.  Since reaching a low in July 2009, the UO Index has risen for five consecutive months as the Oregon economy pulled out of recession. The UO index was revised to account for an annual update of seasonal adjustment and standardization factors; the revisions resulted in only minor quantitative changes.
Highlights of the report include:
•    Labor markets showed welcome signs of improvement. Initial unemployment claims continue to edge down, signaling a slow but steady reduction in the pace of layoffs, while employment services payrolls – largely temporary employment firms – extended the previous month's modest improvement, rising to the highest level since last July.  This is a sign that some firms need to bolster their workforce in the face of firming economic activity.  Note that overall nonfarm payrolls posted a 2,900 gain on employment increases in manufacturing, education and health services, and the trade, transportation, and utilities sectors.

•    Residential building permits rose again (seasonally adjusted and smoothed), continuing the improvement from this summer's lows.  Even with the gains, however, residential construction activity remains at very low levels and the industry remains susceptible to decreasing federal support in the months ahead.
•    In a very positive development, orders for core manufactured goods rose again, signaling further improvement in business confidence.  Pent-up demand from firms that delayed capital purchases during the financial crisis combined with firming economic activity is bolstering manufacturing orders, which will in turn help support Oregon's manufacturing sector.
•    While the Oregon economy, like the national economy, is no longer in recession, considerably uncertainty about the pace of the recovery remains. The combined impact of inventory correction, pent-up demand, and fiscal and monetary stimulus greatly supported economic activity at the end of 2009.  The underlying rate of growth may prove disappointing and unable to sustain strong, consistent improvement in labor market conditions as the impact of these forces wanes in the months ahead.
Timothy Duy
Director, Oregon Economic Forum
Director, Undergraduate Advising
Department of Economics
University of Oregon – 1285
Eugene, OR 97403-1285