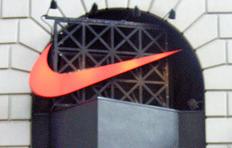 Business News Note: A few years the Governor of Arizona invited Phil Knight for a visit which immediately started rumors that the Governor was luring NIKE to his state.  Now the rumors are awaking again in light of new Measure 66-67 taxes passed on Oregon business that Phil Knight opposed. Below is an editorial from the Idaho Statesman Newspaper.
By Dan Popkey , Idaho Statesman (Boise, Idaho)
February 20, 2010
Nike founder Phil Knight is hopping mad at $727 million in tax increases on corporations and the wealthy in Oregon. Idaho leaders long to catch their rich neighbor's eye.  Idaho has wooed Nike before – a revelation offered by Lt. Gov. Brad Little, who salivates at the prospect of landing one of the world's best-known brands.   "Phil Knight was up front: Don't change the tax code, and if you do, we're going to do something," Little said. Knight hasn't expressed interest yet, Little said. "But we're gonna call him."  Knight is No. 24 on Forbes' list of richest Americans, with a net worth of $9.5 billion. He gave $100,000 to the campaign to defeat Measures 66 and 67. Both tax bills passed Jan. 26.

In a Jan. 17 guest opinion in The Oregonian newspaper, Knight called the measures "Oregon's Assisted Suicide Law II," writing, "They will allow us to watch a state slowly killing itself. They are anti-business, anti-success, anti-inspirational, anti-humanitarian, and most ironically, in the long run, they will deprive the state of tax revenue, not increase it."
Knight then named 10 companies that have either left the state, shut down or become controlled by non-Oregonians. A philanthropist who's given the University of Oregon Ducks more than $300 million, Knight wrote, in the third person, that Nike's "founder and chairman is not merely an economic man. He has webs between his toes. But he, too, has some limits."
Nike spokeswoman Erin Dobson wouldn't comment on the company's interest in Idaho in the 1990s. But she ruled out Nike moving its headquarters from Beaverton, writing in an e-mail, "Nike has no plans to relocate."
How about expansion elsewhere? "Nike is a growth company," she wrote. "When and where there is opportunity for strategic growth we will take advantage of it."
That could simply be Knight venting. The 1990s search was driven by complaints about multiple taxing authorities in Oregon, said Jeff Malmen, Gov. Phil Batt's chief of staff, who attended a meeting with Nike executives in Batt's office. The visit likely occurred in 1997, according to the best recollection of several officials.
Nike also looked at Washington, Nevada, Colorado, New Mexico and British Columbia. In the end, the company resolved a dispute with Beaverton and expanded what is now a 193-acre campus with 17 buildings named for Nike-affiliated athletes.
Little takes heart knowing Nike seemed keen on Idaho. "They've got a high frustration level with governance in Oregon and they've been here before," Little said.
He showed the company a 640-acre parcel he owned north of Eagle as a possible site for a satellite campus. Little's land included a piece of Goodale's Cutoff, a branch of the Oregon Trail. "These guys were going to spin it to Nike that they could go out and run on the Oregon Trail."
Department of Labor Director Roger Madsen helped develop the pitch. "We created a beautiful video that showed a lot of people in athletic situations – golfing, skiing, tennis, running – wearing Nike apparel," Madsen said. "It was very attractive."
The psychological effect of landing such a big fish would do wonders, Little said. "Nobody's going to headline that Joe's Car Wash hired two more people. An Areva in Idaho Falls, an F-35 here or a Nike here would change the mental perception about the economic doldrums we're in."
Gov. Butch Otter also has Nike on the brain. He's working on a legislative package to lure business. Though he didn't mention Knight's pique, he knows that plenty of Oregon business leaders feel the same way.
Otter said he seeks "incentives for folks to take flight from Oregon and come over here, because we're getting a lot of phone calls about their tax increase."
Department of Commerce Director Don Dietrich said he has strategies for businesses in Oregon, Washington and California, where taxes are higher and regulation more aggressive.
Dietrich has gleefully adopted Knight's moniker for the Oregon law – "Suicide Bill" – saying, "Our phones started ringing when that bill passed, and we have aggressively been answering those calls."
Idaho's advantages include stable and competitive taxes, cheap power and an "accessible government," Dietrich said. "We basically have a very friendly business environment. We are swinging pretty hard, particularly in the Western states."
Dietrich is realistic enough to know that dislodging Nike from Oregon presents astronomically long odds. "People don't just pick up and move to move. It's expensive, it's disruptive."
That's especially true for a company so closely identified with Oregon and a single institution, the U of O.
But Knight also is friends with Boise State's Chris Petersen, who coached Duck wide receivers from 1995 to 2000. His Broncos wear Nike gear. As unlikely as it is, the prospect of a bigger Nike presence in Idaho has real appeal in a state battered by a poor economy, dwindling tax revenue and its own loss of corporate titans in recent years.
http://www.idahostatesman.com/2010/02/20/1087883/could-nike-swoosh-into-idaho.html