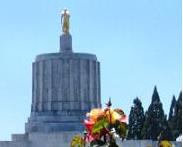 State Reprseentative Paul Holvey Press Release,
House Committee Passes Key Consumer Protection Bills SALEM — The House Consumer Protection & Government Accountability Committee, chaired by Rep. Paul Holvey (D-Eugene), passed the following bills of note out of committee.

HB 3624: Requires appraisal management companies (AMCs), which are often owned and operated by large banks, to register in Oregon. Rep. Paul Holvey expressed need for the bill, saying, "Appraisal Management Companies are currently unregulated and have started to control the entire appraisal industry without oversight or cohesive industry standards, which has jeopardized the reputation of the whole appraisal process. I have personally been contacted by more than 60 appraisers expressing urgent need for AMC regulation, stating that they are receiving sometimes less than half of the fee they had customarily received for appraisals, yet AMCs are charging the customer more than the industry previously charged. When lower fees become the main requirement for a work assignment, quality will diminish and those who want to do credible and ethical work will leave the profession. HB 3624 establishes standards and regulates AMCs so that there is ample oversight and brings integrity back to the appraisal industry."
HB 3656: Protects families who bought their homes using and financed the purchase using 80/20 home loans. Under current law, some of these homeowners are at risk of being sued by the bank or lender that owns their loans, even after their homes have been taken by foreclosure. HB 3656 would protect those families from further action if both the 80% and 20% mortgages were issued at the same time by the same bank, lender or affiliate. "Families who have suffered through foreclosure should not be further punished by facing lawsuits from banks utilizing these sometimes very risky loan products," said Rep. Paul Holvey. "This bill will not get a family their home back, but it will give them the chance to move forward without fear of another lawsuit."
HB 3657: Prohibits the owner of a foreclosed property from neglecting upkeep on the property. Requires banks or other owners of foreclosed properties to maintain these properties or face fines up to $150 per day, issued by local governments. Rep. Paul Holvey said, "Banks and other lien holders have a responsibility to be good neighbors in the community. Some neighborhood blocks have several foreclosed homes, which drives down property values and community morale. HB 3657 will help protect neighboring property owners from the negative impacts of having vacant and often neglected foreclosures in their neighborhood."
A full House vote on these bills is expected next week. Representative Holvey serves House District 8, which includes Eugene, Veneta, and Lorane. He is chair of the House Committee on Consumer Protection and sits on the House Business & Labor Committee, the House Subcommittee on Work Force Development, and the House Sustainability and Economic Development Committee.