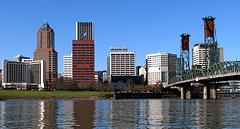 Oregon Business News Notes,

Less than five days into 2010 and we are witnessing a few interesting business shake ups and bold changes to survive and adapt to changing conditions.
Oregon City's Blue Heron Paper Company files for bankruptcy: The Blue Heron Paper Company became the first high profile Oregon bankruptcy for 2010.   The 200 plus employee company saw a 30% drop in revenue last year.  It is filing for Chapter 11 as a way to reorganize and get back to profitability within months.   Contributing to the company economic troubles was the sinking of paper prices.  Read More:
Portland Timbers season at risk: A dispute with the United States Soccer Federation (USSF) has put the Portland Timber season at risk of being terminated.  The USSF has refused to sanction the schedule of all second tier soccer teams in the US which includes the Portland Timbers which are trying to organize a league directly under the Major Soccer League.  Read more here.

World leading boat store in Eugene to close: Eugene's Staff Jennings Boating Center, the  World's second-largest Bayliner boat dealer is shutting down their store as reported by KVAL NEws TV.  The store is closing due to decline sales.   Read more here.
One national note:
Pepsi ditches Super Bowl ads after 23 years: Pepsi is dropping out of Super Bowl ads and is making a huge gamble on a $20 million social media project online.  Although 90% of the ads have been sold it marks a strong challenge to TV ads being king of advertising and the giant risk of testing the effectiveness of online promotions.   Read more here.