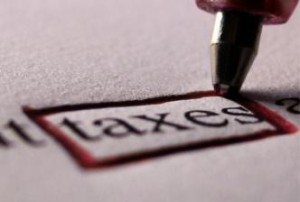 By Oregon Tax News,
New regulations, taxes, and fees and even some interesting new tax credits may be in store for this year.  Federal agencies and Congress will consider numerous policy proposals that will increase regulatory action, increase taxation, and even provide a tax breaks.  Currently, dogs, cats, and other household pets are the winners while tax consultants and tanners are the losers.
The Internal Revenue Service (IRS) is looking at increasing regulations on tax preparers by 2011.  According to the IRS, approximately 60 % of taxpayers have someone handle their taxes for them.  "This is something that is long overdue," IRS Commissioner Doug Schulman said, adding that there are "no national, professional standards for one of the largest financial transactions individuals have each year." 
Proposed rule changes would require tax preparers to pay a registration fee to the IRS and employees would need to pass a competency test and take 15 hours of education a year.  Preparers would have three years to pass the test.  Among those to be regulated are larger tax preparation firms such as H&R Block and Jack Hewitt tax Service Inc.  Changes would also apply to thousands of independent preparers as well, but certified public accountants that are already regulated by professional standards would be exempt.
Another industry facing increased regulation is the tanning industry.  Congress in its attempt to expand health care coverage for millions has agreed to place a 10 percent tax on indoor tanning services.  The Congressional Joint Committee on Taxation estimates that the new tax will raise $2.7 billion over 10 years.  Proponents of the plan hope efforts will also reduce skin cancer and future health care costs through preventative measures.  According to research done by the International Agency for Research on Cancer, indoor tanning before the age of 30 has been associated with a 75 percent increase in the risk of melanoma.  Opponents of the tax argue that the tax is discriminating against women because most tanning salon clients are women.
Perhaps Congress is hoping that more women will become pet owners to help defray new potential costs associated with the tanning.  In Washington, Congress is considering a bill that would cut taxes for pet owners.  The Humanity and Pets Partnered Through the Years or (HAPPY ACT) would give pet owners the ability to deduct pet expenses for food, veterinarian care and other related expenses up to $3,500 a year.  Rep. Thaddeus McCotter (R-MI) stated that he sponsored the legislation because the responsibility of pet ownership is costly, and defraying the costs would help ease the strain on animal shelters.
If the government gets its way, tax preparers will be trained to answer individual's questions on new taxes associated with tanning beds and new tax breaks for puppy chow.