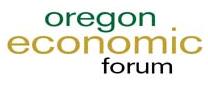 By Tim Duy,
Oregon Economic Forum
University of Oregon Index of Economic Indicators.
sponsor, KeyBank.
The University of Oregon Index of Economic Indicators™ rose 1.0 percent in November to 85.8 (1997=100) from an October figure of 85.0.  The UO Index has risen for four consecutive months and, compared to six months ago, the UO Index is up an annualized 2.1%.  These patterns are consistent with expanding economic activity; the Oregon economy exited recession in the fall of 2009.
Highlights of the report include:
•    Labor market improvement remains elusive. Initial jobless claims edged downward, but have been relatively constant for four months at a level consistent with ongoing job losses.  Likewise, payrolls in the employment services sector remain flat, in comparison to the gains that would be expected to precede broader improvement in the labor market.  The slow response of new hiring as the economy gains strength is consistent with concerns of a "jobless" recovery, one in which growth remains insufficient to trigger significant employment gains.

•    Residential building permits rose again (seasonally adjusted and smoothed) , extending the rebound from this past summer's decline.  Still, new residential construction remains at very low levels, and the future of the housing market is uncertain as federal programs, such as the homebuyers tax credit and Federal Reserve purchases of mortgage assets, end during the first half of 2010.
•    Orders for core manufactured goods rose, signaling continued firming of business spending.  More generally, stronger manufacturing orders should provide support for the Oregon economy.  Consumer confidence edged downward, and remains in a range consistent with slow year over year gains in household spending.
•    While recent behavior of the UO Index suggests that the Oregon recession ended this summer, the strength and sustainability over time of the recovery remain matters for concern. Overall activity remains dependent on monetary and fiscal stimulus; consequently, the economy is vulnerable to renewed weakness as the impact of the stimulus fades.  Still, any growth is a welcome relief after such a long and deep recession.
•    While the Oregon economy, like the national economy, is no longer in recession, considerably uncertainty about the pace of the recovery remains. While near term improvements can be expected as firms restock inventories and pent-up demand returns to the marketplace, the picture in the second half of 2010 is clouded by the expected fading of federal stimulus – both monetary and fiscal – efforts in the months ahead.  In the absence of these factors, the underlying rate of growth is likely impaired by ongoing transition away from the debt driven dynamic that supported activity during the housing boom
Timothy Duy
Director, Oregon Economic Forum
Director, Undergraduate Advising
Department of Economics
University of Oregon – 1285
Eugene, OR 97403-1285