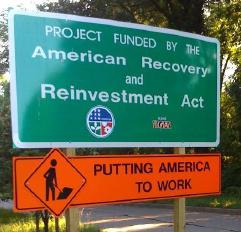 By Oregon Tax News,
On December 8th, U.S. Senator Tom Coburn and Senator John McCain released their Stimulus Checkup Report.  The report lists 100 projects as part of the $700 billion stimulus program targeted as waste.  Four Oregon projects made the list are listed below;

Recovering Crab Pots Lost At Sea ($700,000)
A $700,000 grant will pay for 48 people to help Oregon crabbers recover crab pots they have lost at sea.  The two-year project expects to yield 2,000 lost pots a year. Oregon crabbers reportedly lose an estimated 15,000 crab pots a year. The effort will use 10 boats, planes, and a telephone hotline for people to phone in crab pot sightings.  If all 4,000 pots are recovered as expected, the grantees will spend an average of $175 per crab pot, though John's Sporting Goods in nearby Everett, Washington sells new crab pots online for as little as $19.95.  At that price, crabbers could purchase nearly ten times as many crab pots as this program is expected to reclaim.
2. Renovations for Federal Building as Expensive as New Building ($133 million)
Taxpayers in Oregon may be surprised to learn that the largest stimulus project in their state is not a new road or bridge, but a $133 million makeover for the federal building in downtown Portland. The money will go toward greening  the Edith Green/Wendell Wyatt Federal Building in the hope of making it a model for energy efficient government offices in the Northwest. That said, for $133 million some may wonder why they did not simply tear it down and start over. 
It is not yet clear how all of the money will be spent—those decisions will largely be made by a contractor to be hired by the General Services Administration. For now, agency officials expect to construct a type of vegetative skin—made of plants—on the exterior of the building, to help with heating and cooling costs.  Vegetative facades on buildings, however, are a little studied field according to some experts.  In 2007, a new federal building was constructed in downtown San Francisco with similar state-of-the-art energy efficiency features for $144 million—nearly the same cost to merely renovate the Portland Federal Building. Both buildings are eighteen stories tall, built with energy efficient technologies, and house federal agency offices. The major difference is that the San Francisco building is much larger, with an additional 100,000 usable square feet in comparison with its counterpart in Portland.

Removing Lead Paint from a Pedestrian Bridge ($3.5 million)
A historic bridge in Salem, Oregon is about to get a paint job and some security cameras with a $3.5 million stimulus grant from the Department of Transportation.  Through the years, the bridge has been painted with lead-based materials, which local officials would now like to remove. The Union Street Railroad Bridge, built in the early 20th Century, has been closed to trains for decades and has recently been converted to a pedestrian thoroughfare over the Willamette River. Attempting to underscore the importance of the bridge to local economic growth, Todd Klocke with the City of Salem, told a reporter, ?There have been talks about half marathons or other events using the bridge, we have also heard about a couple that want to get married on the bridge in the spring.
Wastewater Treatment Center with "Talking Water Gardens" ($8 million)
Oregon will use $8 million in stimulus loans for a wastewater treatment project featuring a tourist-friendly ?Talking Water Gardens.  According to news reports, the spectacle would ?funnel effluent from the city's wastewater treatment plant into wetlands…where it would be naturally cleansed and cooled down? before flowing into the Willamette River.  In order to spend the money as fast as possible, the city of Albany will issue a non-competitive contract for work on the project.  According to the city's planning document, ?the waterfall component is expected to have an important acoustical impact that is the driver for the name ?Talking Water Gardens.'  Local residents will also be facing an increase in sewer rates to pay for the new water treatment system.
Read full report here