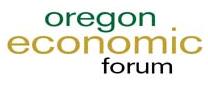 By Tim Duy,
Oregon Economic Forum
This is highlights from the University of Oregon Portland Metro Business Index (PMBI) for the third quarter of 2009.  We thank KeyBank for their sponsor of this report.
The PMBI fell 0.7% compared to the second quarter, and is down 15.3% compared to year ago levels.  Note that the pace of deterioration slowed markedly during the quarter.  Highlights of the report include:
•    Labor market indicators were mixed.  Initial unemployment claims continued to decline, a significant improvement compared to the rapid pace of layoffs last winter.  Still, claims remain elevated and overall hiring is weak.  Nonfarm payrolls continued to decline, and are down 5.8% compared to the third quarter of last year.
•    Measures of tourism and travel were also mixed. Estimated lodging revenue (seasonally and inflation adjusted) fell for the third consecutive quarter, but the decline was modest compared to previous quarters.  Passenger airline traffic increased, rising to its highest level since the third quarter of last year.  While airline traffic stands 13% below the peak reach in the first quarter of 2008, the recent uptick is consistent with stabilizing consumer and business spending.

•    Housing sales jumped during the third quarter as buyers rushed to take advantage of lower prices, low interest rates, and a homebuyer's tax credit. The increase should be read cautiously; the tax credit likely drew demand from future months into the third quarter.  Note that November RMLS data revealed that pending sales fell back below 2007 levels and that the Case Shiller home price index for Portland resumed its decline in September.  Building permits held steady at low levels.
Although the PMBI continues to decline, signs of stabilization are evident.  Notably, the pace of deterioration has improved for two consecutive quarters; such improvement typically presages the end of a period of economic contraction.  The dependence of activity on fiscal and monetary stimulus suggests that the sustainability of subsequent recovery is at risk as the impact of stimulus fades in 2010.
Tim
Timothy Duy
Director, Oregon Economic Forum
Director, Undergraduate Advising
Department of Economics
University of Oregon – 1285