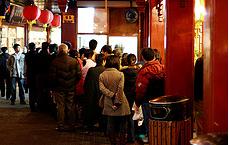 Several polls capture the widespread public dissatisfaction with the economy, consumer prices and Wall Street bankers and brokers.
– Wall Street Anger: 2/3rds of consumers say they have an unfavorable view of financial executives.
– Shopping Pull-Back: 95.1% of shoppers say that they are waiting as long as December 24th to find better deals.
– Spending changes: More than 60% of Americans say the economy is causing them to change their financial strategies (66% women; 58% men).
Wall Street Anger:  A Bloomberg National Poll details that most Americans disapprove of Wall Street Executives and most Americans do not support the government bailout of banks and should not allow bonuses for those firms that received help.

Spending Problems:  Recently released economic polls show that Americans are just as skittish as last year with their money. They plan to save more and spend less this holiday season.  Overall, polls are showing a repeat of last year's disappointing season as consumers continue to be pessimistic about the economy and managing their budget and savings.
Weak Sales: A poll conducted by America's Research Group (ARG) and UBS shows that holiday shopping sales are weaker this year than last.  The National Retail Federation is predicting a 1% drop in holiday sales from last year. ARG founder, Britt Beemer says that shoppers are still waiting for bigger discounts.  Beemer predicted early in the season that retail sales would be down 2.9% compared to last year.  Those who have been shopping are favoring the discounted prices at Wal-Mart, JCPenney and K-Mart.
According to a poll by Coinstar of Bellevue, Washington, 93% of consumers between the ages of 18 and 44 plan to save and invest more than they currently do compared with 87% of those older than 44.  More than 60% of Americans are changing their financial strategies because of the economy. Specifically, 83% of those making changes plan to save more money in the future.
In short, polls highlight a disturbing trend for retailers. Due to the existing economic conditions, consumers continue to save more and spend less.