From Bureau of Economic Analysis,
Personal Income: Percent Change 2009:II-2009:III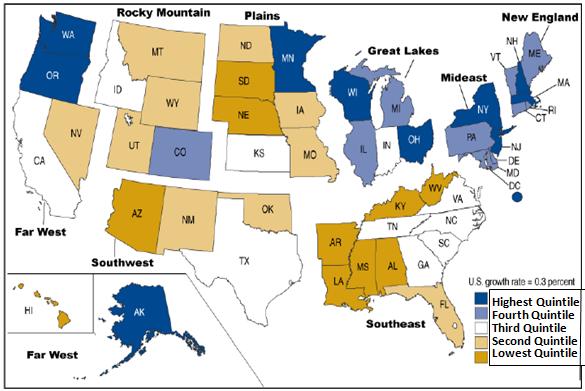 State Personal Income: Third Quarter 2009
State personal income growth averaged 0.3 percent in the third quarter of 2009 with 19 states seeing net earnings growth for the first time in at least a year, according to estimates released today by the U.S. Bureau of Economic Analysis. Personal income growth rates ranged from 0.8 percent in Alaska to -0.4 percent in Louisiana.

Although third-quarter personal income growth was slower than second-quarter growth (0.8 percent), its composition improved. Net earnings accounted for most of third-quarter growth in 33 states and for the nation. In contrast, transfer receipts accounted for most second-quarter personal income growth in 41 states.
Inflation, as measured by the national price index for personal consumption expenditures, accelerated to 0.7 percent in the third quarter after rising 0.3 percent in the second quarter. This increase in the prices households paid for goods and services was greater than or equal to the personal income increases in every state except Alaska.
Nationally, the industries making the largest contributions to third-quarter earnings growth were finance and health care. Smaller contributions of the other private service-producing industries were offset by declines in goods-producing industries. Although mining, construction, and manufacturing continued to decline in the third quarter, they subtracted less from third-quarter earnings growth than from second quarter growth. Federal civilian and military earnings grew in the third quarter, but state and local earnings declined, so that the net contribution of the government sector was zero.
There were some notable differences in industrial performance across states. In New York, state and local government contributed more than any other industry to that state's earnings growth (highest in the nation) while in Hawaii, declines in state and local government subtracted more than any other industry and accounted for its having the lowest earnings growth in the nation. In the state of Washington, the biggest contributors to third-quarter earnings growth were durable goods manufacturing and information, industries which declined nationally. In Alaska, military earnings contributed more than any other industry to personal income growth followed by health care and transportation.
Quick links to all of the regional statistics underlying this news release along with mapping and charting software and a detailed methodology are available at http://www.bea.gov/regional/quick.cfm.