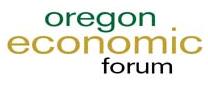 By Tim Duy,
Oregon Economic Forum
The LCBI declined just 0.4% in the third quarter of 2009, a significant improvement in the pace of decline that signals a greatly diminished level of economic stress in the region.  Highlights of the LCBI include:
•    Labor markets were mixed. Continuing declines in help wanted advertising suggests weak hiring activity.  While these declines are aggravated by the transition to internet job ads, it is notable that national data from the Bureau of Labor Statistics confirms that hiring activity remains low.  In a more positive development, initial jobless claims continued to decline and now are only slightly elevated compared to the pre-recession period.  The reduced rate of firings supported stabilization in nonfarm payrolls during the quarter.

•    Measures of tourism and travel continued to firm, with a modest gain in lodging activity and a sharp rebound in air passenger traffic.  While both still remain well below recent highs, the improvements are a welcome sign that the worst period of deterioration in these sectors is over.
•    Residential housing activity was mixed. Home sales rose as buyers rushed to take advantage of a tax credit for new homebuyers.  While this credit has since been extended, it is likely that the expected expiration of the credit pulled future demand into the third and fourth quarters of 2009.  The gains predominantly aided the lower ranges of the housing market.  Also note that the third quarter rate of sales at a seasonally adjusted average of 242 units a month falls well below the peak rates of over 400 units a month in 2005.  Building permits were flat for the quarter.
•    Overall, the behavior of the LCBI indicates that, barring a sudden reversal of improvements at the national level, economic activity in the region neared the bottom of this cycle during the third quarter.  The strength and durability of the ensuing recovery, however, remain in doubt given that the impact of federal stimulus is expected to fade in the quarters ahead.
— This project was sponsored by Key Bank.
By Tim Duy,
Oregon Economic Forum