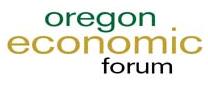 By Tim Duy,
Oregon Economic Forum
The University of Oregon Index of Economic Indicators rose 0.6 percent in October to 85.0 from a revised September figure of 84.5.  The behavior of the UO Index suggests that the recession has ended in Oregon; the measure of recession probability developed by University of Oregon Associate Professor Jeremy Piger now indicates that the probability of recession in Oregon fell below 10 percent in September and October, dating August as the last month of recession.
Jobless rises: While the recession in Oregon has ended, improvements in labor markets remain elusive.  Initial jobless class rose during October, reversing recent improvements, while employees in the employment services sector (largely temporary help firms) have been stagnant for the past three months.  While an improvement from deterioration earlier this year, these indicators still suggest ongoing difficulties for job seekers.
Home building permits up 24%: Residential building permits (seasonally adjusted and smoothed) jumped 24.8 percent during October.  While this is consistent with previous indications that new residential housing activity reached a low this summer, caution should be used in interpreting the gain, as the increase is from a very low level of activity.  In other words, relatively small gains in permits can cause large percentage changes.  Note that overall housing markets remain challenged by stricter underwriting conditions.  The challenges are illustrated by a renewed decline in Portland area housing prices in September as indicated by the Case-Shiller housing price measure.
Overall economic activity weak: Both the Oregon weight-distance tax (smoothed) – a measure of trucking activity – and new orders for nondefense nonaircraft capital goods fell in October.  Both indicators have stabilized since the beginning of the year, but the lack of sustained improvements indicates that overall economic activity remains weak.  Consumer confidence (smoothed) rose again as spending patterns stabilize.  Still, conditions in job and credit markets do not look conducive to a strong consumer rebound.
Recession likely ended in summer: While recent behavior of the UO Index suggests that the Oregon recession ended this summer, the strength and sustainability over time of the recovery remain matters for concern.  Overall activity remains dependent on monetary and fiscal stimulus; consequently, the economy is vulnerable to renewed weakness as the impact of the stimulus fades.  Still, any growth is a welcome relief after such a long and deep recession.
Timothy Duy
Director, Oregon Economic Forum
Director, Undergraduate Advising
Department of Economics
University of Oregon – 1285
Eugene, OR 97403-1285