By Shawna Sykes
Oregon Employment Department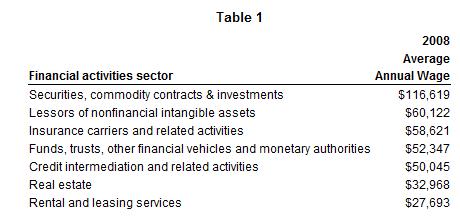 Nearly $4.5 billion (yes, that's billion with a "b") was paid out to employees in Oregon's financial activities industry in 2008. With over 88,000 jobs in financial activities in Oregon, the industry makes up 5.2 percent of all covered employment statewide.  The financial activities industry includes businesses in credit intermediation, real estate, insurance, securities, funds and trust management, rental and leasing services, and lessors of nonfinancial intangible assets.

Credit Intermediation Employs Most
The sector with the most employment in the finance industry (28,760 jobs) is credit intermediation and related activities which includes local banks, credit unions, mortgage brokers, and check cashing services . Insurance carriers and related activities is the second-largest (26,488 jobs) and real estate rounds out the top three (20,335 jobs). The balance of employment in financial activities is in rental and leasing services (7,196 jobs); funds, trusts, other financial and monetary authorities (613 jobs); securities, commodity contracts, and investments (4,864 jobs); and lessors of nonfinancial intangible assets (335 jobs).
Securities and Investments has Highest Average Wage
According to our 2008 covered payroll records, the financial sector with the highest average annual wage in Oregon is securities, commodity contracts, and investments at $116,619 annually (Table 1). Second highest in annual wages are those businesses serving as lessors of nonfinancial intangible assets which includes franchise management companies. Insurance carriers and related activities have the third highest annual wage at over $58,000 annually.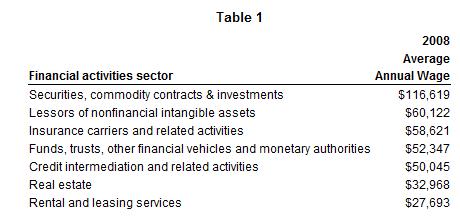 Real Estate and Credit Intermediation Employment Drop Most
Employment in nearly every industry in Oregon diminished since the recession began in December 2007. The financial industry also made cuts (Graph 2). The industry reached its peak employment of 107,900 statewide in August 2006, then showed some fluctuations until it reached the same high level again in July 2007. Since then employment within the financial activities sector dropped by over 13,000 jobs.
Real estate and rental and leasing took the greatest hit, with employment falling nearly 20 percent (-8,000 jobs) since December 2007. Jobs in banking and mortgage industries dropped nearly 8 percent (-2,600 jobs) in the same time period. Insurance carriers and related activities saw a modest increase in employment of 400 jobs statewide, while all other financial sectors combined lost 5.7 percent of their employment.
"For those mortgage companies still able to stick around, business has been great in 2009," says Jim Smith, partner and Senior Loan Officer of Northwest Mortgage Group. While other mortgage companies were shutting their doors, Northwest Mortgage gained market share as low interest rates stimulated many homeowners to refinance their loans this year. However, new government regulatory requirements have made lending much more cumbersome for lenders and borrowers, increasing the time spent to process paperwork by 20 to 25 percent. Lenders have invested more time in training loan officers, underwriters, and other staff to ensure that federal guidelines are met.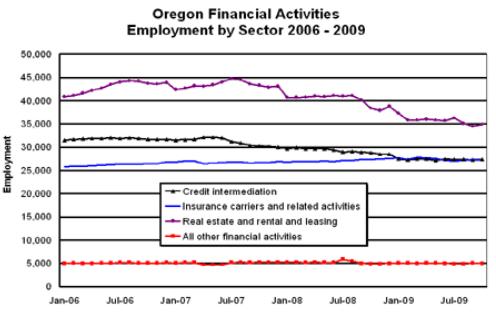 The number of homeowners losing their homes to foreclosure increased significantly from 2008 to 2009. According to RealtyTrac, in the first half of 2009, there were more than 1.5 million new foreclosure filings across the United States, of which 19,053 were filed in Oregon.
Oregon's foreclosure rate of 1.2 percent is up by 56 percent in comparison to the same period last year and ranks Oregon 11th highest in the nation for the rate of new foreclosure filings. The states with the highest foreclosure rates in the nation are Nevada (6.2%), Arizona (3.8%), and Florida (3.1%). Vermont (.01%), North Dakota (.06%), and Montana (.07%) had the lowest foreclosure rates in the nation for this time period, with only 525 new foreclosure filings combined.
The number of housing permits issued in Oregon for new residential housing fell from 11,192 between January and October 2008 to 6,533 for the same time period in 2009, a drop of 42 percent (Graph 3). Neighboring states have seen large drops in the number of new housing permits as well, with California having the largest difference in the number of permits (-25,697) and Nevada having the largest percentage drop (-55.3%) in the western region.
Construction employment fell by 31,000 jobs statewide from its peak employment of more than 110,800 in August of 2007 to its current level of 79,800 in October of this year.
With diminished housing demand due to job uncertainty, higher foreclosure rates, swelling home inventories, and the difficulties of obtaining financing, home prices have softened significantly statewide.
The burst of the housing bubble has been a boon to those with the means to purchase a new home. According to the Regional Multiple Listing Service (RMLS), the median sales price of homes in the Portland-Metro area dropped from $280,000 in October 2008 to $249,900 in October 2009, an 11 percent decrease (Table 2). Home prices in Northeastern Oregon seem to have remained more stable than other parts of the state, with no change from 2008 to 2009 in median sales prices. Of the regions reviewed here, the North Coastal counties saw the greatest year-over-year drop in home values, with a median sales price of $290,000 at this time last year that dropped to $245,500 by October 2009, a 15 percent change in value. With housing more affordable and government tax credits for first-time home buyers, sales activity is beginning to pick up in the real estate market. Pending sales in the metro area are up 64 percent over this time last year, and closed sales in the month of October were up by 37 percent. George Hafeman, Jr., broker and owner of Windermere St. Helens Real Estate anticipates that, "Sales will continue to be slow for a while." Buyers are being more conservative, looking for smaller homes, not the mini-mansions of yesterday. Though some investors are buying, many are waiting for prices to drop even further. There has been a great deal of consolidation among real estate firms while some agents left the industry altogether due to slow sales.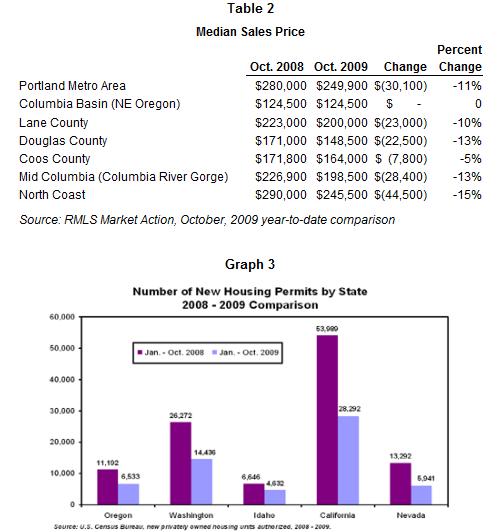 Bet Your Bottom Dollar
Despite the lackluster economy, Federal Deposit Insurance Corporation (FDIC) statistics show that the number of financial institutions grew in Oregon in the past two years. In 2007, Oregon had 59 financial institutions with a total of 1,086 offices. By 2009, the number of institutions grew to 61 and the number of offices was up to 1,119. Deposits in FDIC-insured institutions also grew, from $47.9 billion in June 2007 to $52.6 billion by June 2009, a 10 percent jump.
The financial activities industry is projected to grow by 4 percent from 2008 to 2018, adding 3,800 jobs statewide (Table 3). This rate of growth is significantly lower than the 9-percent rate projected across all industries. The finance and insurance segment of financial activities is forecast to grow at a faster rate of 6 percent, adding 3,600 jobs, and real estate and rental and leasing is expected to remain stable with growth of only 100 jobs statewide.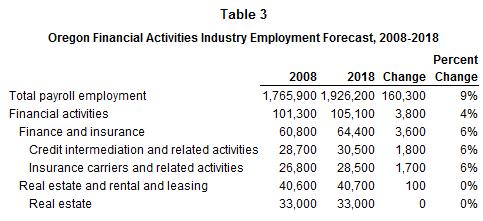 As Good As Gold
"The financial industry is in a state of transition right now," according to Adam Sommers of Sommers Financial Management. Sommers has been managing people's money since 1996 and his business saw growth over the past year because of the economy's volatility. "It's an interesting time," he says. With the collapse of large brokerage firms and instability of the stock market, many consumers are seeking the assistance of financial advisors. Some individuals who used to manage their investments on their own and saw huge losses are migrating to advisors to create a more risk-averse portfolio with stable returns. "Customers are looking for more advice than ever before," Sommers says, and he's able to work with the customers to customize investments to meet their needs. Those skills are likely to be in higher demand as consumers look toward the future.