Survey conducted by the Oregon Community Foundation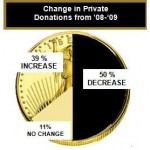 Challenged by the recession, survey results show that nonprofits must take steps to contain costs and continue to serve their communities. In 2009, private donations have decreased by 50% while the demand for services has increased 12%.
The Oregon Community Foundation (OCF) surveyed  208 Oregon nonprofit organizations about the impact of the economic recession on donations, demand for services, and cost-saving measures. 134 nonprofits completed the survey. The survey results showed:
• Oregonians who are able to give are doing so…more donors are giving smaller amounts.
• Donors have shifted support to different organizations in these hard economic times.
For example, education donations are seeing less of a decline than the arts.
• Most nonprofit organizations are under some degree of fiscal stress.
• Some nonprofit organizations have been able to increase contributions despite the recession.
• Large statewide nonprofits and Portland Metro organizations with large operating budgets have been among those most affected by the recession
• Demand for services has increased with the largest demand in education and social services
Despite the recession, some nonprofit organizations did increase contributions in 2009. In large part it was due to taking prompt action to balance organizational budgets while continuing to provide services. The Oregon Community Foundation saw this as the type of leadership thay may be the model others nonprofits will need to follow in order to help survive a poor economy.
78% of survey respondents have implemented cost-saving measures. Specifically, 30% have eliminated programs or services and 31% have laid off staff. Anecdotal comments suggest that some organizations are balancing the need to reduce expenses with the need to continue to provide services to the community.
Some nonprofits see the recession as an opportunity to communicate with current and potential donors and to plan for future fundraising. Overall, the majority do not intend to make any further budget adjustments for 2010.
Overview of Survey Responses details the results:
• Half of survey respondents said that private contributions are down so far in 2009 compared with 2008.  39% said that contributions are up, and 11% said that contributions stayed about the same.
• 76% of Portland Metro and 60% of statewide organizations saw contributions decrease in 2009 compared  with 23% of Central Oregon and 33% of Southern Oregon respondents.
• 100% (5 respondents) of organizations with operating  budgets of $15 million and over reported that  private contributions declined, and 71% of organizations with operating budgets less than $15 million  but at least $4 million said that contributions declined. In comparison, 37% of respondents with  operating budgets between $200,000 and $1 million reported decreased contributions. More large  respondents (by operating budget) are located in the Portland Metro region or serve the entire state  compared with respondents from  any other region.
• 78% of survey respondents have implemented cost-saving measures. Specifically, 30% have eliminated  programs or services and 31% have laid off staff.
• On average, demand for respondents' services has increased by 12% since July, 2008. Education and  social services organizations reported the largest increases in demand, averaging 17%.
(Continue Reading complete survey)