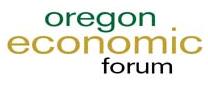 By Tim Duy,
Oregon Economic Forum
Index highlights:

•    The University of Oregon Index of Economic Indicators rose 0.1 percent in September to 84.4 from a revised August figure of 84.3.  The behavior of the Index remains consistent with an imminent end to the recession in Oregon; note that the US economy grew at a 3.5% pace in the third quarter, suggesting that the national recession ended during the summer.

•    Labor markets remain a weak link in the recovery. While initial jobless claims in Oregon continued to edge downward, they remain at a level consistent with ongoing declines in nonfarm payrolls.  Employment services payrolls, primarily the first-fired last-hired category of temporary employees, was effectively unchanged; we would expect to see this category gain sharply if a strong recovery takes hold.  Unfortunately, overall nonfarm payroll declines accelerated during the month.

•    Residential building permits were essentially unchanged at low levels of activity for the third month.  The recent behavior of this indicator is consistent with national data suggesting that new home construction reached a bottom during the summer.  Housing markets remain in disarray, however, still reliant on considerable levels of government support.  The likelihood that this support will lessen overtime suggests and high rates of housing vacancy suggest that this sector will improve only gradually.
•    New orders for core manufactured goods improved during the month, mostly offsetting declines in August and September.  The stability of new orders – an indication that business investment plans continue to firm – is supporting manufacturing activity. Consumer confidence gained during the month, but remains at relatively low levels indicative of restrained consumer spending.  The Oregon weight distance tax, a measure of trucking activity, fell back after a sharp gain the previous month, but remains above recent lows.
•    The UO Index is likely to be a coincident measure of activity at the end of the recession; it will rise as the Oregon economy exits the recession.  The steady improvements in the six month rate of change, however, continues to remain consistent with index behavior that preceded the end of the 2001 recession.  Note that the measure of Oregon recession probability developed by University of Oregon Associate Professor Jeremy Piger decreased in September, showing a 76% chance of recession compared to a revised 97.5% probability in August, consistent with the improving economic conditions forecast by the UO Index.  Worries about a jobless recovery, however, remain.
Timothy Duy
Director, Oregon Economic Forum
Director, Undergraduate Advising
Department of Economics
University of Oregon – 1285
Eugene, OR 97403-1285
541.346.4660