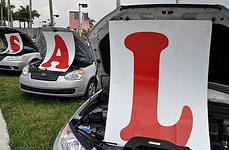 Yesterday, Ford announced a $997 millon profit at a time when auto companies are suffering historic losses.  The Atlantic Wire charted five major reasons for their success.
– Self Sufficiency (goodwill from not taking bail-out)
– Cash for Clunkers
– Solid Vehicles (wooing critics and customers)
– Cutting Costs–But Not Enough ($500M in union concessions)
– Social Media (getting more free positive press on new cars)
Read article here.