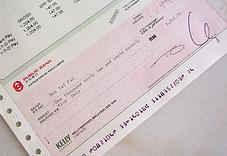 By Oregon Tax News,
Oregon is near bottom in wage growth and it could get worse. According the United States Census Bureau, Oregon is currently ranked 8th in lowest pay check growth across the country.
The rise of unemployment in Oregon gives employers the opportunity to take advantage of the abundance of labor and lower wages.  Goldman Sachs's chief United States economist, Jan Hatzius, predicts that average hourly earnings will fall about half a percent from the fourth quarter of 2009 through the fourth quarter of 2010.  Hatzius says his prediction accounts for workers' strong aversion to wage cuts.  Without that adjustment, the projection would be negative two percent.
Analysts fear that the United States may face a downward debt-deflation spiral like that of the 1930s and Japan in the 1990s.  In such a trend, debt-burdened workers cut back on spending to make their interest payments, which drags the economy down even more.  "Imagine a person who got laid off six months ago," says Paul Ashworth, senior United States economist for consultants Capital Economics.  "They're going to get more and more desperate to get a job and more and more willing to take lower wages as time goes on."
Oregon has some work to do if it intends to escape its declining wage growth.