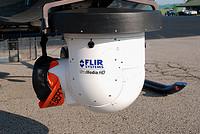 By Oregon Small Business Association,
Little-known Flir Systems (FLIR), the world leading provider of infrared technology used by militaries across the globe, hopes to bring its technology to motor vehicles.  FLIR's success booms despite the recession because of the need for infrared technology, especially during a time of war, but if the company can take things one step further, it could become one of the nation's most successful anti-recession businesses in history. The company has yet to enter the household because its products are expensive.  Most of its low-end consumer products run around $3,000.  However, the company hopes that its base of government and commercial contracts will help drive volume up across its many businesses, sending manufacturing costs down to the point where average consumers can afford the products.

FLIR attracts business from countries all over the world and recently announced its $15.4 million contract with the U.S. Army Aviation and Missile Command in Huntsville, Alabama for its Star SAFIRE(R) stabilized multi-sensor systems.  The units delivered under this order will be installed on Army Black Hawk helicopters in support of ongoing MEDEVAC missions.
BusinessWeek recently ranked the Wilsonville-based company, No. 8 on its list of Tech Hot Growth companies.  FLIR falls behind companies such as No. 3 Apple, No. 5 Google and No. 6 Microsoft.
Success in motor vehicles would boost FLIR's other businesses.  "It allows them to scale processes up to high volumes, and then to use what they learned from making high-volume automotive systems to lower the cost of their higher-end systems," says Gabor F. Fulop, President of Maxtech International.
The future looks bright for FLIR.