By Amy Vander Vliet
Published Sep-21-2009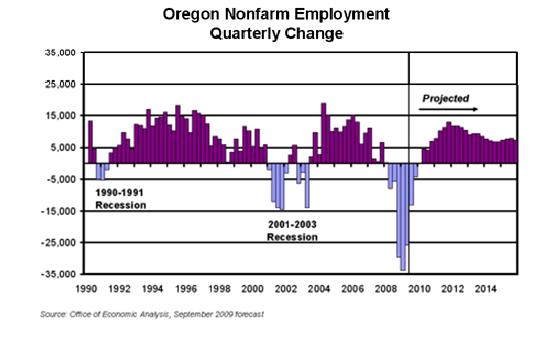 The latest report from the state Office of Economic Analysis (OEA) contains more good news than it has in a while. The freefall is over, the worst is behind us, and recovery is in sight. However, once here, the recovery both in Oregon and the nation will be slow and jobless in the initial stages.
The September 2009 report forecasts an employment decline of 5.1 percent this year followed by a weak 2010. We'll continue to see job losses through the end of 2009, but not nearly to the same extent as late last year or earlier this year. Next year will start flat, but growth kicks in during the second quarter and gains momentum as the year progresses. We'll have to wait until 2011 to see the same pace of growth we experienced in 2005 and 2006, and it may be as late as 2013 before we return to pre-recession employment levels.
From start to finish, OEA forecasts that Oregon will lose 119,800 jobs over nine quarters, a decline of 6.9 percent. This is a slightly more optimistic forecast than the May report, which predicted losses totaling 125,700. In comparison, employment declined by 11.5 percent over 12 quarters during the recession of the early 1980s. The worst quarters are over: the fourth quarter of 2008 (?29,500 jobs) and the first two quarters of 2009 (?33,600 and ?25,700).
All sectors of the economy are expected to lose jobs in 2009 with the exception of private education and health services. This broad industry has managed to survive the recession relatively intact, although the pace of growth has unquestionably slowed. In fact, health services lost jobs in the second quarter of this year, and private education is forecasted to decline in the second half of the year. But quarters with growth are expected to outweigh those with losses, so 2009 will end with the broad sector up 2.5 percent over 2008.
Construction will be hardest hit this year, contracting by 16.9 percent. Losses would likely have been greater if not for state and federal stimulus spending. This sector will continue to lose jobs through 2011 as the state works through the housing downturn and anticipated weakness in commercial development. Construction won't return to pre-recession peaks in the forecast period, which extends through 2015.
Manufacturing is expected to decline by 13.3 percent in 2009, pulled down by heavy losses in transportation equipment, wood products, and metals and machinery.
Oregon lost jobs at a faster pace than the nation in 2008, and this trend is expected to continue in 2009. Once we return to growth, however, Oregon should again outpace the nation.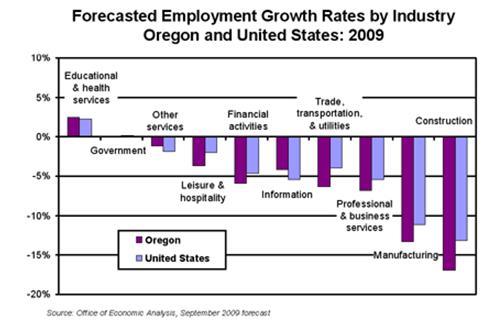 The OEA's complete report is available at www.oea.das.state.or.us.