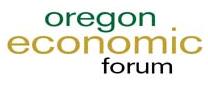 By Tim Duy,
Oregon Economic Forum
Highlights of latest report,
The UO Index dropped 0.4 percent in July, but the overall behavior of the Index in recent months continues to indicate that Oregon will exit recession in the second half of 2009.  Highlights include:
• Initial jobless claims edged drifted lower, but the pace of improvement has slowed markedly compared to earlier this year; the slow pace of improvement is consistent with concerns that this will be a "jobless recovery," in which the economy enters a recovery phase but growth remains insufficient to generate significant job growth.  On a more hopeful note, payrolls at employment services firms edged up, possibly indicating more willingness to hire temporary workers.
• Residential housing permits (smoothed to account for monthly volatility) fell again, continuing to drag down the overall index.  For comparison, the NOT seasonally adjusted (raw) figure for July 2009 was 705 permits.  The comparable figure for July 2008 was 1,446 permits; for July 2006, the figure was 2,107.
• New orders for core manufactured goods decline, but the previous month's figure was revised upward; the overall uptrend since this past spring points to firmer business spending plans. Consumer confidence gained; note that consumer spending was up in July, boosted by the "Cash for Clunkers" program.  Still, less access to credit markets, and less willingness to use credit, suggests further headwinds for consumer spending that will restrain growth.
Note that the UO Index is likely to be a coincident measure of activity as the economy exits the recession.  In other words, the UO Index is most likely to increase when the Oregon economy begins to recover.  The overall improvement in the six-month rate of change since the spring points to recovery in the second half of this year.  Also note that more than half the index components improved over the past six months, another indication that the economy is poised to recover (the index itself, however, was still lower, largely due to the depressing effect of falling residential permits).  The durability and sustainability of the recovery, however, remains in doubt as the economy continues to adjust away from a debt-supported consumer driven dynamic.