By Bill Conerly, Businomics, Conerly Consulting LLC
The data on foreign trade show both imports and exports looking up.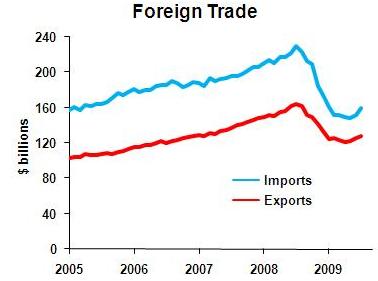 This pattern–a small upturn after a huge decline–is present is lots of current data, including
– Retail sales
– Real consumer spending
– Car sales
– Consumer confidence
– Industrial production
– Housing starts
– Building permits
– New home sales
– Existing home sales
– Purchasing managers index
– Capital goods orders
– Total business sales
– Stock market
None of these has regained its pre-recession peak, so they all resemble the foreign trade chart above.  I always caution against interpreting one month's data as a new trend, but when all the data are turning up for the last month, then it sure as heck is a new trend.  The recession is over.  Now our goal is to regain the lost ground.  And to figure out how to shift our businesses from recession-mode to recovery mode.
By Bill Conerly, Businomics, Conerly Consulting LLC