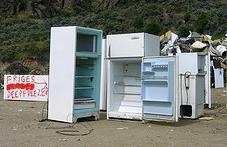 By Oregon Business Report,
The American Recovery and Reinvestment act is now investing $300 million in an effort to boost the sales of energy-efficient home appliances.  This Cash for Appliances federal program is expected to begin late this fall, authorizing rebates ranging from $50 to $200 for purchases of high-efficiency household appliances that carry the "Energy Star" label. Unlike the Cash for Clunkers program, Oregonians will not have to drag their old household appliances to the store to get their rebates.
The appliance industry, like the car industry, has seen an unprecedented sales slump that began when the housing market declined in 2006.  The decline continued at a fast pace. The Association of Home Appliance Manufacturers stated that the sales of washers, dryers, refrigerators, and ovens dropped 10% in 2008 and are down 15% as of July this year.

Individual states will run this new appliance rebate program, though details for each state are still being worked out.  According the Energy Department and Environmental Protection Agency about 55% of the newly produced major household appliances met their standards to qualify for rebates in 2008.  The $300 million will be allocated to the states based on population, working out to roughly $1 a person per state.  Therefore, California will receive the largest allotment of nearly $35.3 million.
Currently, the debate is over whether or not this program will be as successful as the Cash for Clunkers program, which significantly increased car sales across the nation.  Unlike the popular, $3 billion Cash for Clunkers vehicle program, there is no guarantee that Americans and Oregonians alike are prepared to spring for new washers, stoves, and fridges.