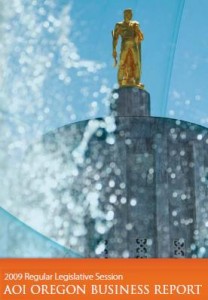 Associated Oregon Industries,
Oregon's largest business advocate
Published after each regular session, the AOI Oregon Business Report is Oregon's most comprehensive record of how the legislature dealt with the important issues affecting Oregon's business community and job creation in the private sector.  In the AOI Oregon Business Report you will find:
– Detailed listing of important legislation by issue area including employment law, environment and energy, health care, retail, tax and fiscal policy, transportation, and tort reform;
– Analysis of the session from a business perspective;
– Business/jobs rating for each of the 90 state legislators;
– Ways you can change the next legislature – how it deals with your business;
Download: 2009 AOI Legislative Review Printable PDF

After the Legislature dismissed the AOI-led Alliance of Oregon's Business Associations' temporary, broad-based taxation proposal, the AOI Board of Directors voted to take a leading role in rolling back the punitive, excessive and permanent tax increases passed by the Legislature. We believe this tax increase hurts private sector job retention and creation in Oregon; it also further erodes Oregon's competitive position as an attractive place in which to invest and do business.