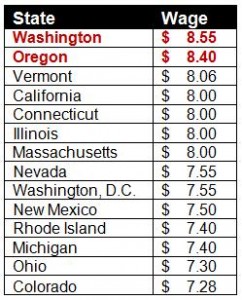 From Oregon Business Report,
In July, the federal minimum was set at $7.25 an hour.  Currently, Oregon has the second highest minimum wage in the nation at $8.40, just $0.15 less than Washington.
Of the fifty states, thirty have no minimum wage or one that is lower than the federal minimum, and seven states have a minimum equal to the federal one.
The chart lists the 13 states above the federal minimum.
.
.
.
.