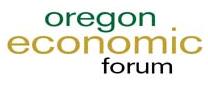 GOOD NEWS: New jobless shrinks, building permits up,  and Tourism is up (lodging and Air travel)
BAD NEWS: Payroll declines, Home sales drop,
By Timothy Duy
Director, Oregon Economic Forum
University of Oregon
The LCBI declined 1.7% in the second quarter of 2009, the eighth consecutive quarter of deterioration.  The pace of deterioration, however, slowed notably, setting the stage for firmer activity in the second half of this year.  Highlights of the LCBI include:
– The labor market remained weak. Although initial unemployment claims continued to decline, indicating a slower pace of layoff, the demand for new hours was anemic.  Nonfarm payrolls continued to decline.

– Measures of tourism and travel firmed, with improvements in both lodging and air passenger activity during the quarter.  While both still remain well below recent highs, the improvements are a welcome sign that worst period of deterioration in these sectors is over.
– Residential housing activity was weak during the quarter.  Homes sales fell while days on market remained high.  Building permits edged up, but remained at relatively low levels.  Still, early reports of home sales in the third quarter indicate improvement, with falling prices and government incentives offering substantial support, particularly at the lower end of the market.
Overall, the behavior of the LCBI suggests that economic activity is approaching a bottom as we move into the second half of 2009. The strength and durability of the ensuing recovery, however, remain in doubt.  Economic activity is currently supported by a significant amount of government intervention, raising the possibility of a recessionary relapse as the effectiveness of those efforts wane.  Moreover, job growth may remain weak or nonexistent (a "jobless recovery") as the economy transitions away from consumer-led dynamic of recent years.
By Timothy Duy
Director, Oregon Economic Forum
University of Oregon