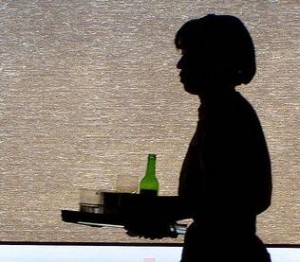 Restaurants Now Required to Count Calories
The Oregon Restaurant Association  took a defensive stance during the 2009 Legislative Session.  Its greatest victory last session was delaying the implementation date of posting calories on menus as required by House Bill 2726 until January 1, 2011.  The bill mandated that chain restaurants provide the typical caloric value about their meals on their menus and provide full nutritional information upon request.  The legislature passed House Bill 2726 with the overall goal of making this information readily available to enable Oregonians to make healthier eating decisions.
"The trick is to make this information accessible to patrons without high costs to the businesses," said Bill Perry, the Government Affairs Director of the ORA.  "The bill passed by the legislature makes this a statewide issue as opposed to county by county.  The largest struggle is implementation, so it's considered a victory to have two years to properly map out the implementation plan." 
Since the menu labeling piece of the bill does not go into effect until 2011, Perry expects the federal government will come up with a national standard before the implementation of House Bill 2726.  As of now, there is no research supporting that these "calorie counting menus" have any affect on healthy eating patterns.  Yet, this information will provide individuals who struggle with high cholesterol, carbohydrate intake, fat intake, and other health related issues, with the tools to make healthier choices.
The implementation aspects of the calorie menus will be further discussed at the ORA's upcoming annual convention, "Back to the Basics," held September 20-22 in Sunriver.   Please visit http://www.ora.org/Convention/index.php for more information.
In addition to "calorie counting menus," the ORA worked with House Minority Leader Bruce Hanna (R-Roseburg) on House Bill 3053 that would freeze Oregon's minimum wage if Oregon's unemployment rate exceeds the national unemployment rate.  Currently, Oregon has the second highest minimum wage in the nation at $8.40 per hour, just $0.15 less than Washington.  Oregon's high minimum wage results in a lower average number of employees per restaurant than in other states.
"Although Representative Hanna's bill was not passed, we're hopeful that a legislature will seriously consider ways in which to improve Oregon's high minimum wage issue," said Perry.
Even amongst a deep recession, and newly imposed menu labeling regulations, the ORA is optimistic about the future.
"For the most part, eating habits haven't changed.  What has changed is where we're buying food," said Perry.  "Lower-priced restaurant business sales are actually higher during the recession, whereas fine dining is down.  Sales will rebound when the economy recovers."
— The Oregon Restaurant Association (ORA) is the leading business association for the restaurant industry in Oregon. Comprised of more than 9,000 restaurant and food service outlets, the industry employs a work force of more than 110,000 people, and creates a total economic impact of $9.7 billion.