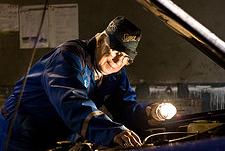 By Better Business Bureau,
Lake Oswego, OR – July 14, 2009 – Most companies are eager to help a stranded consumer in need, but a new scam targeting Oregon's automotive repair industry reminds businesses to dole out kindness with caution.  It starts with a phone call to the body shop from a desperate "consumer" who claims that their vehicle is wrecked out-of-state, but wants it repaired locally.
What follows is an elaborate plot to capture the business' money. Allegedly, the towing company will not accept credit cards. The caller asks the auto repair company to charge a provided credit card number—possibly stolen—for thousands of dollars. Then, the business is instructed to wire the funds or write a check back to the "consumer" or to the towing company. In some cases, the towing company is to be paid a deposit and then the balance is due upon arrival, but ultimately, the towing company never shows up and the money is gone.

Auto repair shops from Baker City and Portland have reported they've received similar phone calls.
To pull off this con, some frauds use Internet Protocol (IP) Relay or an alternate Telecommunications Relay Service (TRS), which is intended to assist the deaf and those with trouble hearing or speaking in communicating through a Web-ready computer, PDA, phone or other device.
Your BBB serving Alaska, Oregon, and Western Washington provides the following tip-offs for detecting rip-offs:
•    The caller is not willing to provide basic contact information or sounds like they are reading from a script.
•    They won't give specific details of how the vehicle was wrecked, provide a description of the damage or explain the exact whereabouts of the wreckage.
•    The request involves lengthy instructions to exchange or wire funds.
Write it down. Collect as much information as possible from the caller and the purported towing company, including the name, address, e-mail address, phone number they provide—and if applicable—the one that appears on the caller ID. Note other distinguishing features, such as an accent or other identifying information.
Detailed questions may catch a scammer off guard. Inquire about the make, model and year of the vehicle. Ask if they filed a police report in the city where the accident occurred. Find out if they filed a claim with their insurance company.
Speak up. If you suspect a call is fraudulent, report it to the state Attorney General's Office and BBB for investigation. If it is a suspicious repair request via e-mail, file a complaint at www.ic3.gov.
###
About your BBB serving Alaska, Oregon and Western Washington:
Your Better Business Bureau is a not-for-profit organization funded by Better Business Bureau Accredited Businesses. The BBB's mission is to be the leader in advancing marketplace trust. For more information about the services and products provided by your BBB, call 206-431-2222 or 253-830-2924 in Washington, 503-212-3022 in Oregon, 907-562-0704 in Alaska, or visit our Web site at www.bbb.org.