by Jim Lee, 7/20/09
Oregon Employment Department,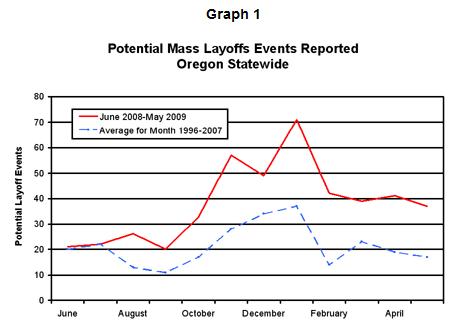 "This is the worst thing I have ever seen."
(Herbert Morrison broadcasting on WLS radio from Lakehurst Naval Air Station NJ, site of the crash of the German airship Hindenburg on May 6, 1937)

The housing bubble burst and it wasn't a gentle pop.
Rather, it seemed an abrupt explosion with damage happening very quickly. Much like the demise of the Hindenburg, the recent economic downturn and related damage began suddenly and continued on with breathtaking speed. In only six months, by the end of March 2009, more than 25,000 Oregonians had lost their jobs in a flurry of mass layoffs.
Already in recession, Oregon's economy recorded historic levels of mass layoffs through the winter of 2008-2009. In the fourth quarter of 2008, Oregon experienced 73 confirmed extended mass layoffs as defined and reported by the Department of Labor's Bureau of Labor Statistics Mass Layoff Statistics (MLS) program. An additional 69 extended mass layoff events were confirmed in the first quarter of 2009.
The Mass Layoff Statistics Program
The MLS program gathers layoff information nationwide for all industries except government and agriculture. The current MLS data series extends back only to 1996, so it is important to remember that while frequent references to "record numbers" of events, layoffs and separations are made, the time line for this particular program is short. If Oregon's current unemployment rate is any guide, the early 1980s was the last time Oregon experienced economic conditions comparable to those of the last several months. This data series does not allow for comparison with that earlier recession.
However, since 1996 employment in Oregon has been influenced by a financial crisis in Asia, the bursting of the dot-com bubble, the dislocations of the 9-11 attack, and recently, the bursting housing bubble around the nation. The MLS goes back far enough to measure the present against this recent history.
Bad Omens in the Fall
The MLS program defines potential mass layoff events as occurring when 50 or more workers from a single employer file an initial claim for unemployment insurance within a five-week period. These potential events, reported monthly, serve as early warning of possible layoffs occurring in workplaces throughout Oregon.
The number of potential events began to rise last July, accelerated in September 2008, and continued to rise at an alarming rate through January 2009. Record numbers of potential events for that particular month were reported in October, November, January, February and March. The 49 reported in December was near a record high, falling just short of the 51 potential events reported in December 2001.
Even though – due to their seasonal nature, the number of potential events has come down since the peak in January – they are still occurring at a rate much higher than the program average (Graph 1).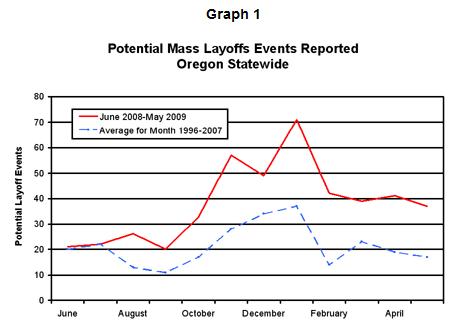 Potential Realized
When a MLS potential mass layoff event occurs, employers are contacted and additional information is sought. An Extended Mass Layoff Event is identified by the MLS program when an employer verifies that 50 or more workers have been separated from their jobs for longer than 30 days.
The 73 fourth quarter verified extended mass layoffs were, by a wide margin, the largest number ever reported by the program for Oregon. It eclipsed by 30 percent the prior high, 55 layoffs reported in the first quarter of 2001.
In these 73 layoffs, 13,668 individuals lost their jobs. Not surprisingly, this was also a program record, far above the previous high of 10,814 separations associated with the 55 layoffs from the first quarter of 2001 (Graph 2).
Adding to the pain of the dismal numbers from the fourth quarter, these record numbers were nearly matched in the first quarter of 2009 with an additional 69 extended mass layoffs verified. These layoffs accounted for an additional 11,757 separations.
Again, not surprisingly, the six-month period encompassing the fourth quarter of 2008 and the first quarter of 2009 (October 2008-March 2009) shattered MLS record levels for a six-month period.
The combined totals of 142 extended mass layoffs and 25,425 separations far exceed the former six-month high of October 2000-March 2001 with its 90 layoffs and 18,162 separations (Graph 3).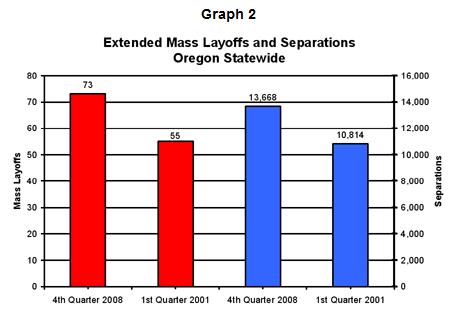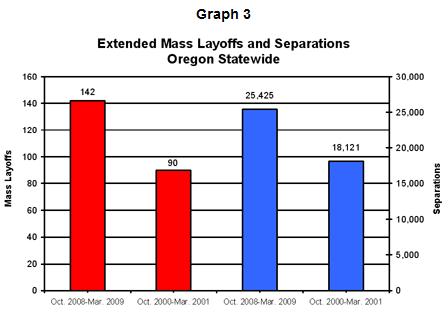 Manufacturing Woes
The bad news continues when looking at Oregon manufacturers. Though almost all of Oregon's industries have been visited with layoffs, manufacturers have been hit particularly hard. For manufacturers only, the MLS program again reports record levels of potential events over several of the most recent months: October, November, January, February, and March. It also shows record levels of verified extended mass layoff events and separations.
Eighty-five extended mass layoff events occurred among firms engaged in manufacturing during the six-month period of October 2008 through March 2009. This tops the previous six-month high of 49 layoffs reported October 2002 through March 2003.
The 85 layoffs accounted for 13,734 separations. This was another record for manufacturing, exceeding the previous high of 11,213 reported in the third and fourth quarters of 2000.
We Are Not Alone
It's little consolation, but Oregon is not the only state experiencing record numbers of layoffs since last fall. Thirty-seven states set new highs for the number of extended mass layoffs in either the fourth quarter of 2008 or the first quarter of 2009. Also, 21 states reported new highs of separated workers over the same period (Table 1). Though Oregon has been hit particularly hard, as indicated by its having the second highest unemployment rate among the states in March through May, few states have been passed over by the rash of layoffs rippling through a struggling national economy.
Though the number of layoffs appears to have slowed some in the second quarter of 2009, the level of potential events is still high and additional mass layoffs will likely continue at a slower rate.
It's been a very difficult time for Oregonians. From the viewpoint of a Mass Layoff Statistics analyst: "This is the worst thing I have ever seen."