April 15, 2014 --
University of Oregon Regional Economic Indexes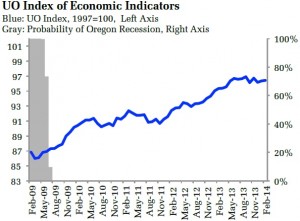 By Tim Duy
Oregon Economic Forum
University of  Oregon
Oregon's economy continues to expand at a somewhat above average pace. Highlights of the report include:
- The Oregon Measure of Economic Activity was 0.11 in February, compared to a revised 0.32 the previous month. The three-month moving average, which smooths month-to-month volatility in the measure, is 0.27 where "zero" for this measure indicates the average growth rate over the 1990-present period. Similar to the previous month, only the services sector contributed negatively to the measure.
- Residential building permits remain somewhat below normal and thus make a negative contribution, but general improvement in the construction industry is bolstering employment. The labor force component continues to make a positive contribution to the household sector; the post-recession labor force decline may have come to an end.

Print This Post
Email This Post