August 5, 2015 --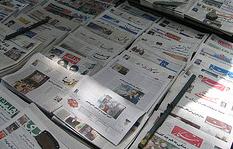 By Oregon Small Business Association Foundation,
The Oregonian and Willamette Week have both announced major changes for their publications.
This summer, the Oregonian will close its pressroom facility on SW Taylor Street. Advance Central Services Oregon, which was formed as a separate company, has provided the printing services for the Oregonian as well as the Oregon Media Group's weekly papers and specialty publications. Signature Graphics, a printer located near the Portland Airport, will take over the printing. Advance Publications retained a broker to explore the sale of the Taylor Street building, which occupies over a city block near Providence Park. In 2013, almost 100 Oregonian employees lost their jobs in the shift away from daily home deliveries to more reliance on their web-based reporting.

Print This Post
Email This Post