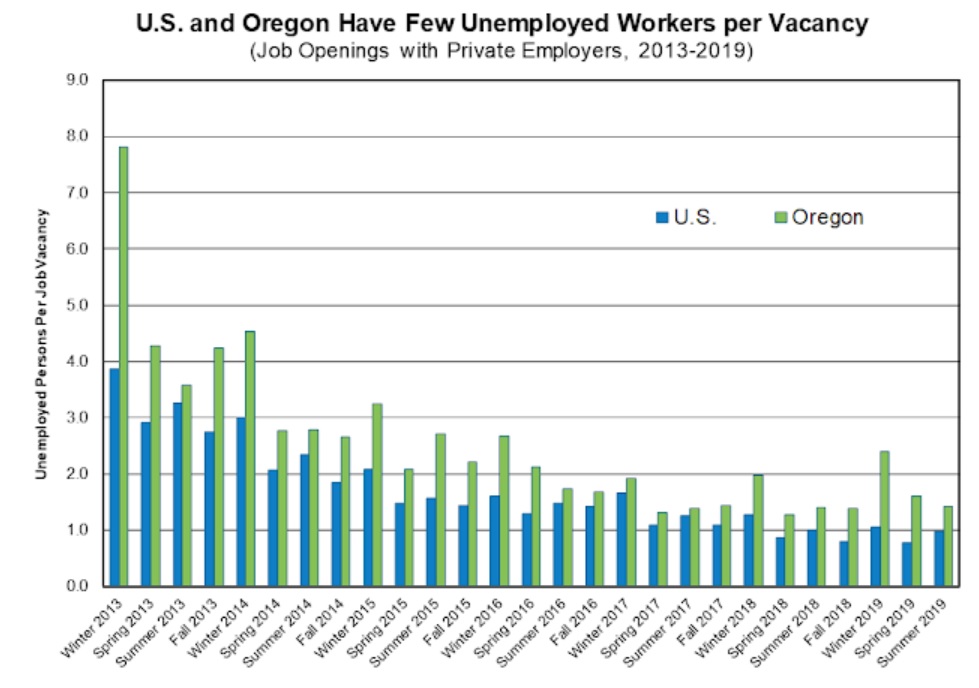 [2]
By Oregon Employment Department,
Help Wanted in Oregon: Employers Report 62,800 Vacancies in Summer
Hiring demand remained strong in Oregon this summer. Private employers reported 62,800 job vacancies, essentially unchanged (-1%) from the 63,500 job openings reported during summer 2018. The labor market also remained tight. For both Oregon and the U.S., the ratio of unemployed persons to job openings has been 1-to-1 for three consecutive summers.
Here are a few more highlights about Oregon's job vacancies this summer:
– Private health care and social assistance employers reported the most vacancies of any sector (11,200).
– Employers reported strong seasonal hiring demand, with 10,300 job openings in leisure and hospitality and 7,400 in retail trade.
– Hiring remained widespread across different types of jobs in the economy. Businesses reported at least 1,000 job vacancies in 20 out of 21 occupational groups.
– Detailed occupations with the largest number of summer vacancies included personal care aides; retail salespersons; production workers; laborers and freight, stock, and material movers; and heavy and tractor-trailer truck drivers.
– Starting wages averaged $17.95 per hour; on average, real starting wages (inflation-adjusted) grew by $1 per hour over the year.
More information about job vacancies in Oregon can be found in the Job Vacancy box on the Publications page [3] of QualityInfo.org.