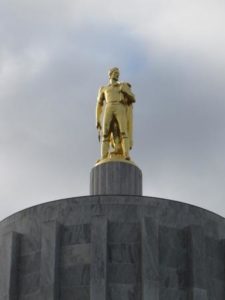 [1]
Oregon retailers need help in drug, theft law reforms
By Oregon Prosperity Project [2]
A panel of retail and law enforcement representatives discussed recent trends related to drug laws, sentencing reform and retail theft at the Council of State Retail Association's (CSRA) Annual Meeting in Portland earlier this month.
The topic resonated with the audience for several reasons. The link between drug addiction and property crimes is well-known and drives many policy discussions related to criminal justice reform. And retailers have a front row seat to witness the effects of both addiction and changes in sentencing guidelines.
After voters passed Proposition 47 in 2014, California implemented some of the nation's sharpest reductions in penalties, reducing many drug-related and theft crimes to misdemeanors. Property crimes in many counties have increased more than 25% since the ballot measure passed and made all thefts of less than $950 a misdemeanor.
Another factor driving up thefts has been the opioid crisis, said Sacramento County District Attorney Anne Marie Schubert. Some California counties had more opioid prescriptions than people in 2016, she said, citing a Sacramento Bee article. (To read the article, click here.)
Oregon retailers also face a changing legal landscape. Oregon has been a leader in decriminalizing drug-related crimes, legalizing marijuana before California did. However, efforts to reduce penalties for some retail theft crimes failed in the 2017 Oregon Legislative Session.
Changes in the criminal-justice system's approach to theft and drugs eventually will affect most retailers in one way or another, panelists said. Schubert was joined on the CSRA panel by Woodburn Police Chief Jim Ferraris, Ted Potrikus of the Retail Council of New York, Jason Brewer of the Retail Industry Leaders Association and Barbara Staib of the National Association for Shoplifting Prevention. The panelists offered this advice to retailers:
•Make it easier for employees to report thefts. Panelists said some retailers stop reporting crimes when they know thieves won't be punished. But that makes it harder to track serial offenders and organized retail crime.
•Equip employees with proper safety and medical equipment, including rubber gloves for searches. Just touching some drugs, such as fentanyl, can put you at risk.
•Work with local leaders on policies that fit your city or state. There probably won't be a one-size-fits all solution to these types of crimes.
•Frame policies as efforts to prevent serial crimes. While polls and election results shows voters are sympathetic to people with addictions, they are not as sympathetic to repeat offenders.
•Remain vigilant against shoplifting, which in some cases requires investments in private security. Left unchecked, shoplifting grows into organized retail crime.
Participate in or initiate drug take-back programs.