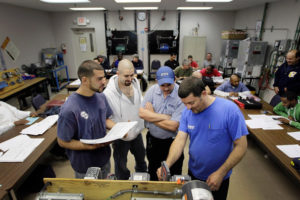 [1]
House Passes Bipartisan Updates to Career and Technical Education Programs
Education, Jobs and Economy Bonamici Applauds Strengthening CTE Courses
Congresswoman Suzanne Bonamici [2](D-OR) applauded the House of Representatives for passing a bipartisan update to federal Career and Technical Education (CTE) programs. The Strengthening Career and Technical Education for the 21st Century Act provides federal support to programs that prepare students for in-demand careers and success in higher education.
Bonamici, a leader on the Education and the Workforce Committee, has visited CTE programs across northwest Oregon. These include an automotive technology class at Aloha High School in Beaverton, a welding class at Sherwood High School, a viticulture class at Yamhill Carlton High School, and a culinary class at Newberg High School. She also spent time with students at St. Helens High School learning about their partnership with Portland Community College to offer classes in automotive tech and early childhood care.
"In communities across NW Oregon, CTE classes are engaging students and preparing them for success in and after high school—regardless of what path they take," said Congresswoman Suzanne Bonamici. "Strengthening high-quality career and technical education has broad bipartisan support, and I'm pleased to see this legislation advance through Congress. I hope the Senate passes this bill soon to help students access opportunities that help them excel in school and in the workforce."
Congress last authorized the Carl D. Perkins Career and Technical Education Act in 2006. The bill passed by the House today makes updates that strengthen CTE programs in school districts and at higher education institutions. The legislation increases funding for CTE, supports innovative CTE programs, promotes access to CTE programs among historically underserved students, and fosters collaboration between schools and key stakeholders—including parents, higher education institutions, and business leaders. You can read a summary of the legislation here.
The Strengthening Career and Technical Education for the 21st Century Act now moves to the Senate for consideration.