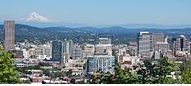 [2]By Oregon Small Business Association Foundation

Forbes says Portland is overpriced
Portland placed #12 on Forbes' list of America's Most Overpriced Cities. Los Angeles was #1, followed by Chicago, Miami, and New York. To come up with the list, Forbes compared the housing prices, living expenses, unemployment rates, and average salaries for workers with a bachelor's degree or higher in the country's 50 largest metropolitan areas.
Out of the 50 areas studied, with #1 being the most expensive, the Portland-Vancouver-Beaverton area ranked #19 for cost of living; #39 for housing opportunity; #28 for unemployment rate; and #30 for average salary.
If you're looking to move, Forbes says Seattle is one of the 10 best cities to live in the US.   This is bad news for small business owners who are trying to survive the rising costs while keeping a business afloat.