Rural Lawmakers Focus on Tax Deal for Small Businesses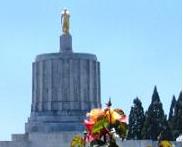 [1]
Oregon Small Business Association,

In a December, 2012 special session, Oregon created a corporate tax structure for Nike, known as the single sales factor. The agreement could also benefit other large corporations, such as Intel. The structure guarantees that corporate taxes will be based for the next thirty years only on sales within Oregon as long as the business creates 500 jobs and invests $150 million in the state.
In interviews with The Bend Bulletin [2], Roger Lee, executive director of Economic Development for Central Oregon said, ". . . if these larger companies are asking for some certainty, it might make sense small business would like certainty as well." Rep. Greg Smith (R-Heppner), told the Bulletin, "One or two districts in the state of Oregon got special consideration while other parts of the state that could have benefited from like legislation were excluded." Rep. Mike McLane, (R-Powell Butte), suggested offering a similar deal with scaled-back options for small, rural businesses as an incentive to locate or expand. Momentum is growing for the issue to be addressed in the next legislative session.