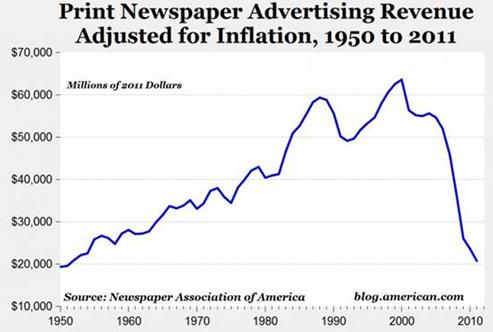 [5]By Oregon Tax News [6]
There are huge trends and shifts in the media and it impacts how people consume their news.
1. Big U.S. media companies bought back record amounts of their own shares in the last year. Cable television networks drew strong viewership and advertising dollars, generating cash despite economic uncertainty. News Corp, Time Warner Inc., Walt Disney and Viacom Inc. are among those posting better-than-expected profits. Media bosses also welcome the 'new money' from Netflix, Amazon.com Inc. and others who want to launch online video services with their extensive library of TV shows and movies. News Corp President Chase Carey said the company received $200 million in the first half of its current fiscal year from Netflix and Amazon. Viacom announced a new deal with Amazon. Analysts said with library content deals like these, a majority of the cash goes straight to the bottomline, since there are no new costs involved in creating the content.
2. Advertising revenue for print newspapers in the U.S. fell to $20.7 billion in 2011. The Newspaper Association of America reported that adjusted for inflation, that's the lowest annual advertising revenue for newspapers since 1951, sixty years ago.
It took 50 years to go from about $20 billion in inflation-adjusted annual newspaper ad revenue in 1950 to $63.5 billion in 2000, and then only 11 years to go from $63.5 billion back to about $20 billion in 2011. This could be one of the best examples ever of 'Schumpeterian creative destruction' displayed in a single graph.
Even online ad revenue in some areas is dropping as The New York Times announced that online ad revenue had slid from a year ago. While the decline was a modest two percent and was accompanied by good news on the circulation front, the drop is still worrisome for a news industry staking its future on digital revenue. Digital ad sales have long been insulated from macro-economic events. Starting in 2011, however, these ad sales began to be sensitive to the European debt crisis and other events that affect print ad sales.
3. Online media subscriptions expanding: The New York Times has reduced the number of paywall-free articles to 10 from 20 has led to more paying subscribers. Overall, the company's revenues from subscriptions increased 9.7 percent from a year ago, an increase driven in part from higher prices for its print papers. Media giant, Gannett, announced in February that every one of its 80 community newspapers will be adopting digital subscriptions.
4. Independent voters trend to newspapers as primary election news source. Mason-Dixon and Sachs Communications polled which candidate voters favor and how those voters consume their news. Undecided voters say they get most of their political news from papers (22 percent), network news channels (19 percent) and the internet (17 percent), the survey of 1,000 likely general election voters found. The survey found 27 percent of Romney voters get their news in print, while just 19 percent of those who favor President Obama do the same. Obama voters (younger voters overwhelmingly favor the president) are far more likely to read about politics on websites (31 percent say that's where they get most of their news) than Romney voters (20 percent) or the undecided (17 percent). The older the voter, the more important newspapers and television become. Of voters between the ages of 50-64, 25 percent get their politics news from newspapers, and 41 percent say they learn most from some combination of television. Nearly three in ten voters over age 65 read the paper, and another 39 percent are glued to network, cable or local news.
5. Warren Buffett is buying newspapers. He acquired his hometown newspaper in January and just snapped up dozens more. This recent purchase made Berkshire Hathaway the proud owner of 63 daily and weekly papers in Virginia and the South. It's a $142 million deal in what is supposed to be the fastest declining industry in America. Why? The story of the catastrophic decline in newspapers has been driven by metropolitan papers where ad rates plummeted while readers embraced digital alternatives. The experience of small towns and counties has been different. In these places, a lack of print and online competition has allowed newspapers to hold onto some of their traditional monopoly power. What all this means for Buffett is that he can treat his newspaper fleet as a longer term investment that will pay off in three to five years. Most of the papers will likely deliver a modest profit from print while Berkshire Hathaway coaxes them into a digital strategy in which a growing share of revenue comes from subscription rather than ads.
Public Impact post script: With big changes also comes with big calls for policy changes.    Some see the decline of print media as a cause of grave concern and the need for government intervention to help (seven Connecticut lawmakers suggested such a plan). Others see online news as liberating traditional forms of media allowing more people to access the news and more micro-news outlets to be created. A California Congressman has raised the subject of applying the Fairness Doctrine principles to the internet.