by Sean Hackbarth
U.S. Chamber of Commerce [1]
Doug Pinkham, President of the Public Affairs Council, pulled out some interesting nuggets from their Public Affairs Pulse survey [2] about how certain demographics view American business.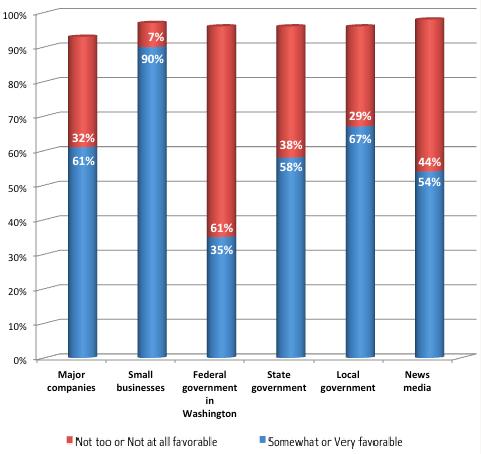 [3]
More than 60% of Americans have a favorable view of major companies, and 90% have a favorable view of small businesses. Those numbers stand high above the 35% favorability rate of the federal government.
To break it down a bit by age, the group most favorable toward major companies is Generation Y (age 18-34) with 71%. The slightly older Generation X (age 35-46) is similarly favorable toward big companies. Baby Boomers (age 47-65) are less favorable toward major companies (54%).
When it seems the public has less trust in many American institutions, they still see American business in a positive light.