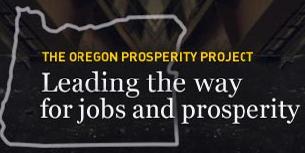 Oregon's Unfunded Pension Obligations: Highest in the U.S.
— New Academic Study Shows the Urgency for States to Address Public Pension Liabilities
By Oregon Prosperity Project
A comprehensive study of unfunded pension liabilities released this summer by two academic economists at Northwestern University and University of Rochester shows the extreme nature of Oregon's unfunded liabilities.
None of the 50 states have set aside enough money to fund pension promises made to public sector employees. But very little information has been available that would demonstrate how wide the gulf is between what has been promised and what has been paid for.
By nearly every measure, Oregon is in the direst situation of the 50 states.
The recently-adjourned Oregon Legislature made no policy changes that might help close the yawning gap.
But on the more hopeful end of the spectrum, there is one state which stands head and shoulders above the other 49 in dealing with this issue: Indiana. The Hoosier State has clearly provided a roadmap for Oregon and others to address this issue.
On average, to fully fund the pension obligations of public workers, every household in the U.S. would have to contribute an additional $1,398 in tax revenue every year for the next 30 years. But in Oregon, that figure is significantly higher.