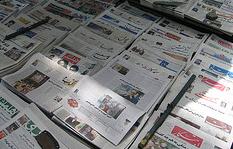 [1]By Oregon Tax News [2],
Newspaper circulations are continuing to decline but at lower rate according to numbers released by the Audit Bureau of Circulations. The Oregon newspaper fell 4.05% when the average was 4.99%. This is positive news since in previous cycles The Oregonian has led national average circulation declines.
The only top 25 newspapers to gain circulation was the Wall Street Journal at 1.82% and the Dallas Morning News at .25% growth. The Oregonian circulation change fared 8th best when compared to the other 25 newspapers. All the numbers show a gradual decline in the rate of subscription drops which indicate that most newspapers seem to be settling into longer term levels. Sunday circulation declined an average of -4.45% drop and The Oregonian fared better than this average with a -3.50% decline.
How they rank
1. WALL STREET JOURNAL, + 1.82%
2. DALLAS MORNING NEWS, + 0.25%
3. ST. PETERSBURG TIMES, -0.19%
4. NEW YORK POST, -1.29%
5. MINNEAPOLIS STAR TRIBUNE, -2.32%
6. ARIZONA REPUBLIC, -2.49%
7. USA TODAY, -3.66%
8. OREGONIAN, -4.05%
9. SEATTLE TIMES, -4.51%
10. CHICAGO TRIBUNE, -5.23%
11. PHILADELPHIA INQUIRER, -5.29%
12. NEW YORK TIMES, -5.52%
13. NEW YORK DAILY NEWS, -5.82%
14. WASHINGTON POST, -6.43%
15. CLEVELAND PLAIN DEALER, -6.85%
16. SAN DIEGO UNION-TRIBUNE,-7.39%
17. LOS ANGELES TIMES, -8.67%
18. CHICAGO SUN-TIMES,-9.03%
19. DETROIT FREE PRESS, -9.05%
20. DENVER POST, -9.12%
21. NEWARK STAR-LEDGER, -9.34%
22. HOUSTON CHRONICLE, -10.53%
23. SAN FRANCISCO CHRONICLE, -11.21%
24. NEWSDAY, -11.84%
SAN JOSE MERCURY NEWS, N/A