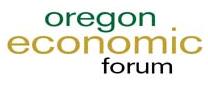 By Tim Duy,
Oregon Economic Forum
University of Oregon Index of Economic Indicators.
sponsor, KeyBank.
The University of Oregon Index of Economic Indicators™ rose 0.2% percent in March to 88.9 (1997=100) from a revised February figure of 88.7.  Most index components were little changed compared to February, with the exception of solid gains in consumer sentiment and new orders for core capital goods.  The steady gains in the UO Index – especially the large gains compared to six months ago – signal sustained growth in Oregon.
Highlights of the report include:
•    Labor market indicators were largely unchanged during March.    Claims have improved dramatically since last year, but still remain elevated, while steady economic growth since last summer has had limited impact on new hiring.

•    Residential building permits (smoothed) fell slightly, the first decline in five months as construction activity bounced from the very low levels last summer.  Only moderate improvements are expected as tighter mortgage underwriting conditions and nonexistent job growth both continue to weigh on the outlook for residential housing activity.

•    New orders for nondefense nonaircraft capital goods rose sharply, a signal of continuing improvement in business confidence that is supportive of manufacturing industries.  Likewise, consumer confidence (smoothed) gained in March; gradual improvements in job markets is likely supporting some additional spending as layoff fears ebb.

•    The interest rate spread between 10-Year Treasury Bonds and the Federal Funds was effectively unchanged; the Federal Reserve continues to signal accommodative monetary policy for an "extend" period of time, likely into 2011.
•    Still, labor market conditions remain challenging, as economic growth falls short of that necessary to generate solid gains in hiring intentions.  Although hiring is expected to improve as ongoing recovery improves business confidence, the pace of growth looks consistent with only slow improvements in unemployment.
Timothy Duy
Director, Oregon Economic Forum
Director, Undergraduate Advising
Department of Economics
University of Oregon – 1285