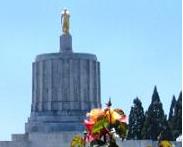 Bill gives Oregon small businesses and entrepreneurs greater access to business development funds
By Senate and House Majority Office,
SALEM – Democratic leaders applauded Governor Kulongoski this morning as he signed legislation that gives Oregon small businesses and entrepreneurs greater access to business development funds. Senate Bill 1017, called the Access to Business Capital Act (ABC Act), will help create jobs by making it easier to access capital through the Oregon Business Development Fund and the Oregon Entrepreneurial Development Loan Fund.   Senator Suzanne Bonamici (D-NW Portland/Washington Co.) and Representative Margaret Doherty (D-Tigard) worked together on the legislation, which was a key part of both the House and Senate Democrats' agendas for the February session.
"The ABC Act helps community businesses by making it easier for them to access small business loan programs," said Bonamici. "This bill will provide additional flexibility to get money out the door more quickly to companies that need help."
"Private lenders are not lending funds to small businesses, despite hundreds of billions of dollars in bailouts," said Doherty.  "This bill will increase access to funds for the small businesses that are the engine of our recovery."
Business Oregon made the first loan as a result of Access to Business Capital Act just hours after the signing ceremony. Oregon Ballistics Laboratories of Salem received a $160,000 loan to fund a new facility to house the company's ballasting and protection testing operations. OBL does various types of ballistic and blast protection testing and certification for various products with military, law enforcement and other applications. The firm projects the project will lead to the creation of five new jobs within one year, nearly doubling the company's workforce.
"Democrats came into session February with a singular focus on getting Oregonians back to work," said Senate Majority Leader Richard Devlin (D-Tualatin). "Small businesses are the backbone of this state and SB 1017 supports them in their work helping to rebuild Oregon's economy."
"We hear time and time again that the biggest obstacle small businesses face to creating jobs is a lack of access to working capital," said House Democratic Majority Leader Mary Nolan (D-SW Portland).  "This bill will increase the flow of capital so small businesses can hire more employees."
Oregon Democrats are committed to continue making Oregon an attractive place to open and grow small businesses.  SB 1017 is part of that effort.