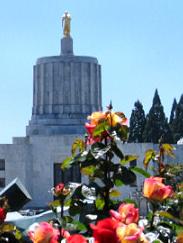 [5]Statement on the February 2010 Session
Alliance of Oregon Business Associations, [6]
The Democrat-controlled legislature spent the month of February increasing spending and debt, raiding the state's cash reserves and imposing more regulations on Oregon's struggling businesses instead of reaching out to Oregon's Main Street businesses to help create private sector jobs for Oregonians.
The legislature's failure to deal with Oregon's 11 percent unemployment rate was evidenced by the fact that hundreds of unemployed union members came to the capitol to plead with the legislature to create family wage jobs. Their pleas fell on deaf ears.

Earlier this month, the state's economist predicted a jobless recovery, and the Legislative Fiscal Office warned of a massive structural deficit looming in the state's budget. In response, the legislature refused to consider the most meaningful job creation bills and opted instead to increase spending by another $30 million and add 200 more state jobs. Simply put, the legislature did nothing but make matters worse on both counts.
We remain concerned about the detrimental effects of Measures 66 and 67. The business community was hoping their passage would end the hostile partisanship, but it did not. Various industries were targeted with increased regulation and litigation while employer-paid funds were swept away to fuel increased state spending.
Quality of life in Oregon has always been one of the concepts that attract businesses to our state, but the partisan bullying on the part of House leadership adds to the chilling effect on Oregon's economic recovery. Many of us stand committed to working with any state leader on efforts to control spending and attract capital investment to Oregon. That is how we maintain jobs, improve Oregon's business climate and attract world-class employers.
Senators Ginny Burdick and Frank Morse offered a plan that looked at returning capital investment to Oregon and protecting higher education from continued deterioration and the House said "no". There are areas for compromise, but current House leadership shows no interest.
Unfettered increases in spending, raids on the state's cash reserves including employer-paid accounts, and a reliance on federal bailouts are clear indications that our state's budget is spiraling out of control. Senator Morse and Burdick's plan made spending control part of the discussion.
The hyper-partisanship must end. Compromise must be achieved. Calling people "whiners" and saying "there were no alternatives" is not acceptable anymore. We must work together to move forward. "Job creation" is not a statement for a press release. It is a product of a cooperative work environment.
###