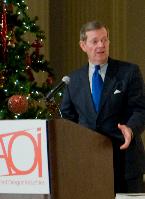 Synopsis of Article on AOI annual meeting.
1.) Keynote: Former Utah Gov. & Sec. Health-Human Services Mike Leviett speaks on health care reform
2.) Awards given: Pat Reiten, Pres. PacifiCorp; Steve Clark, Pres. Portland Tribune; and State Senator Bruce Starr.
From Associated Oregon Industries,
Oregon's largests business lobby
The 2009 AOI Annual Meeting was held December 10 at the Governor Hotel in Portland. The full room of attendees gathered to conduct AOI business, including the election of the 2010-2012 term Board of Directors, remarks by Chair Dan Harmon on Oregon business issues as well as to hear the person who Modern Healthcare magazine once named as the most powerful person in the health care industry. Michael O. Leavitt is the founder and Chairman of Leavitt Partners where he advises clients in the practice areas of health, environment and trade.  In previous roles, Mr. Leavitt served in the Cabinet of President George W. Bush  as Administrator of the Environmental Protection Agency and Secretary of Health and Human Services and a three term governor of Utah.

Governor Leavitt addressed health care reform, with a major emphasis on the cost—"Unbridled escalation of health care cost is the most serious economic threat our nation faces in the decades ahead."
"Emphasizing that the health care billing system we use in our country is irrational, he compared what it might look like if you bought a care the same way as an operation: the dealer would say to you, 'Look, we don't really know the price here, but we know you really need the car. So, why don't you just come by and pick it up and you can begin to use it.' Then three weeks later, you begin to get a blizzard of bills, from the steering wheel maker, the paint company and even from the dealership with charges reflecting the time you spent in the showroom. "
"Gratefully, cars aren't sold that way. Consumers get one price, up front, they understand, and a price they can compare. We are seeing the emergence of a framework that helps people visualize the major requirements of value-based health care."
"Medicare Part D has been a big success because drug companies compete to give consumers what they want at the lowest prices. When consumers are given information and options, they make better decisions about their health than the government does."
In response to a question, Governor Leavitt addressed economic growth by referencing the current and past economic problems in Argentina. He believes it is the continuing inability of the government to live within its means that is the principal contributing factor for their woes.
Lack of economic growth, combined with an expansion in government expenditures, generated a fiscal deficit. To achieve fiscal balance without distorting the economy, their government could have lowered its expenditures. Instead, it chose to finance the fiscal deficit by raising taxes and incurring additional debt in financial markets. Raising taxes proved to be a bad tactic; it generated more tax evasion and suffocated an already hobbled private sector.
Governor Leavitt, concluded that health care system reform needs to be "high value and better and more affordable and not breaking our country and making it impossible for us to do a lot of other things that we need to do in addition to health care."
INAUGURAL AOI CHAIRMAN AWARD RECOGNITION
Chairman Dan Harmon recognized the efforts of two AOI Executive Committee  members and a very dedicated state senator for their leadership efforts in the passage of the Jobs and Transportation Act of 2009.  Pat Reiten, President Pacific Power at PacifiCorp; Steve Clark, President & Publisher Portland Tribune & Community Newspapers; and, Oregon State Senator Bruce Starr, Hillsboro.
Without Steve's conviction and advocacy, without Pat's capability and persuasiveness, and without Senator Starr's determination this important legislation would not have occurred," said Harmon. "Because of their leadership thousands of Oregonians will have good jobs, our businesses will be more prosperous and our roads and bridges will be safer for our families, friends, workers and visitors."
The Chairman's Award is given in recognition of their commitment of time and leadership in improving the economic climate in Oregon. "